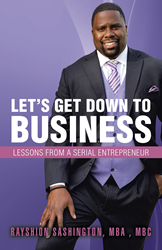 CHARLOTTE, N.C. (PRWEB) September 10, 2018
From humble beginnings, Rayshion Sashington, MBA, MBC, learned important lessons from his father that led him to a lifelong path of business and entrepreneurship. His book "Let's Get Down to Business" is a guide that shares key business points, providing information to those who have always dreamed of starting or owning a business.
Sashington shares lessons learned through trial and error and in triumph. Although starting and running a business is not an easy task, the book shows that it can be one of the most rewarding.
"My goal is to reach out to people who find themselves looking to start a business and can't quite get going," said Sashington. "Even those who are already in business might need to be reenergized because they are in a rut."
"Let's Get Down to Business," reminds readers that no dream is out of reach, and that self-discipline is a gift we give to ourselves.
"Let's Get Down to Business: Lessons from a Serial Entrepreneur"
By Rayshion Sashington, MBA, MBC
ISBN: 9781512788730 (softcover); 9781512788723 (hardcover); 9781512788747 (eBook)
Available at the WestBow Press Online Bookstore, Amazon and Barnes & Noble
About the author
Rayshion Sashington, MBA, MBC, is a father, husband, entrepreneur, master business coach, and author. He is one of six siblings born and raised on Chicago's Southside. The education Sashington received watching his parents run a business has proven to be as valuable as his formal education. As a community leader, he is always looking for ways to inspire his peers to give back to the community. Sashington is a board member for numerous foundations and the Director of The S.A.S.H. Foundation, a non-profit organization with a focus on financial empowerment. He is focused and full of purpose in the pursuit of his life goals. To learn more, please visit http://www.sashcoaching.net.
###
General Inquiries:
LAVIDGE – Phoenix
Bryan Beach
480-306-6554
bbeach(at)lavidge(dot)com
Review Copies & Interview Requests:
LAVIDGE – Phoenix
Kiersten Woglom
480-998-2600 x 586
kwoglom(at)lavidge(dot)com