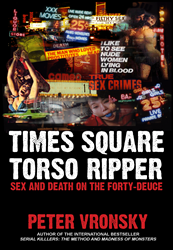 "Without the term 'serial killer' to comfort me, my encounter appeared to me as supernaturally monstrous as the stories in Tales From the Crypt comic books I had read as a kid."
(PRWEB) January 19, 2017
Times Square Torso Ripper Richard Cottingham: Sex and Death on the Forty-Deuce by Peter Vronsky, explores the history of the notorious "Forty-Deuce" strip on 42nd Street near Times Square and how it spawned in the 1970s serial killer Richard Cottingham who stalked it for victims in an era before the term "serial killer" had been coined into popular culture.
https://www.amazon.com/dp/B01MU69ZW8
Vronsky's book explores a world of unbridled sex, sadism, prostitution, porn, singles bars, date-rape drugs, abduction, bondage, handcuffs, duct tape, torture, sexploitation, perverted paraphilic fetishes, serial killing and dismemberment in the notorious Times Square and the Forty-Deuce district during a wild and decadent hedonistic period in New York's past when the near-bankrupt city had over 2,000 murders a year and when an estimated 40,000 prostitutes plied their trade in the mean streets of midtown Manhattan.
Vronsky recalls, "On Eighth Avenue north of W 42nd Street, there were so many hookers that the NYPD put up wooden barricades along the sidewalks to keep them and their pimps from spilling off the sidewalks into the avenue and blocking traffic."
Serial killer Richard Cottingham was gainfully employed for over a decade as a computer console operator at an insurance company in midtown Manhattan, and resided in New Jersey with his wife and three children, while commuting daily to New York. Brought up in a strict Catholic family, Cottingham, since his adolescence, had been secretly obsessed with bondage porn, and sadistic images of gagged and restrained women in mainstream true detective magazines, which the FBI in the 1980s characterized as "pornography for sadists."
After completing his evening shift at the office, Cottingham, depending on his mood, would troll for female victims either in Manhattan's upscale singles bars or among the sleazy porn stores, sex clubs and prostitute 'strolls' around the strip of 42nd Street near Times Square, nicknamed "The Forty-Deuce", or simply "The Deuce." Like London's notorious Whitechapel district, where Jack the Ripper killed his victims in the 1880s, in the 1970s Times Square and the Forty-Deuce were a late-20th century American version of Whitechapel, a 'free trade zone' of vice, illicit sex and iniquity.
A clever and charming psychopath, Cottingham targeted both street prostitutes and ordinary women on the singles scene in the pre-AIDS days of the sexually hedonistic 1970s. He would slip date-rape drugs into his victims' drinks and abduct the groggy women to seedy and anonymous hotel and motel rooms in New York and New Jersey. Once behind closed doors, he would revive his bound and collared victims and proceed to subject them to hours of brutal rape and torture before killing him.
Serial homicide expert Robert D. Keppel who had investigated major serial killers the like of Ted Bundy and Gary Ridgway "Green River Killer", said of Richard Cottingham, "I kept asking myself what it was that ultimately intrigued me about the Cottingham cases. Partly it was the level of sadistic torture that Cottingham acted out on his victims. He didn't kill them and desecrate their bodies; he forced them to experience pain and humiliation before he killed them. Then he desecrated their bodies."
Cottingham's most notorious murder took place in December 1979 when he lured two prostitutes to a 42nd Street hotel room, raped and tortured them throughout the night, killed them, and then sawed their heads and hands off and set fire to their torsos while fleeing with the amputated body parts. One of the young female victims remains unidentified to this day and the severed heads were never found.
Vronsky, a criminal justice historian, describes his own fleeting and random close encounter with the serial killer Cottingham in that seedy hotel lobby. Vronsky was twenty-three years old and working as a production assistant on a movie when he had been stranded in New York during a work assignment and was attempting to check into the hotel when he crossed paths with Cottingham in the lobby elevator doors as the serial killer was fleeing from the scene with the severed heads and hands of two victims in a carryall bag.
After several more brutal torture murders, Cottingham was finally apprehended in New Jersey in the spring of 1980 and eventually convicted in the murders of two women in New Jersey and three in New York but remains a suspect in over fifty other similar murders in the region in the 1970s. Recently in 2010, Cottingham confessed to a sixth murder he had committed earlier at the age of twenty in New Jersey in 1967.
Vronsky describes his own encounter with Cottingham in 1979 in an era before the term "serial killer" had been coined in the media and in popular culture. Vronsky writes, "Without the term 'serial killer' to comfort me, my encounter appeared to me as supernaturally monstrous as the stories in Tales From the Crypt comic books I had read as a kid."
His brief but horrific encounter with Cottingham, later inspired Vronsky to write his 2004 bestseller book, a definitive history of serial homicide: Serial Killers: The Method and Madness of Monsters (Berkley Books/Penguin Random House.)
Times Square Torso Ripper Richard Cottingham: Sex and Death on the Forty-Deuce is a definitive account of the Richard Cottingham case and a social history of New York's vice and porn ridden world on Times Square and the Forty-Deuce before its mid-1990s transformation into the current tourist-friendly "Disney world" destination it has become today.
Fifty shocking photos are included in the book.
Published by RJ Parker Publications. Available on Amazon as a paperback or e-book Kindle edition @ https://www.amazon.com/dp/B01MU69ZW8 and wherever books are sold.