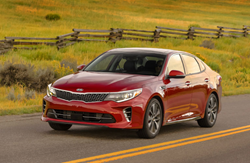 GARDENDALE, Ala. (PRWEB) October 25, 2018
For those who live in the Gardendale area and have been considering a 2018 Kia Optima, now may be the best time to act. Serra Gardendale Kia is currently hosting a 'Last Call' sales event in which the dealership is highlighting the outgoing 2018 Optima model. Now through the end of October, this vehicle has a starting price of $17,777 on its LX model. For those who prefer a long-term alternative and have qualifying credit, the 2018 Optima LX can also be paid off via a $199 per month payment plan; to learn more about credit requirements, interested parties are encouraged to contact the dealership directly. Simply put, in the eyes of many sedan shoppers, this special event is an excellent opportunity to bring home a 2018 Kia Optima.
While there are many reasons for Kia customers to claim a 2018 Optima LX, a few do stand out from the rest. Take, for instance, the wide variety of technology systems. Among them, one will find a touchscreen interface, Bluetooth®, Rear Parking Assist System, a rearview camera, Rear Cross-Traffic Alert, Lane Change Assist, Blind Spot Detection, Apple CarPlay™ and Android Auto™. This, of course, is just the beginning of what one can expect from the 2018 Kia Optima LX. Likewise, all of these attractions and many more can be found in the 2019 Optima; interested parties may want to keep this in mind, just in case the dealership sells out its final 2018 Optima LX models.
Serra Gardendale Kia can be visited online at serragardendalekia.com. Once there, members of the public may read the dealership's research pages, schedule test drives and view the new Kia inventory. Other resources on the dealership's website include financing modules and car service pages. Prospective customers who prefer a more personal approach can reach the Serra Gardendale Kia sales team by calling 205-386-4377. Likewise, all are welcome to visit the dealership in person. Serra Gardendale Kia is located at 630 Fieldstown Rd.