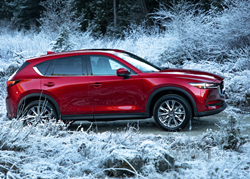 TRUSSVILLE, Ala. (PRWEB) August 08, 2019
Serra Mazda has been taking part in the Season of Discovery Sales Event and has recently added a new lineup of deals to their event. From now until September 3, customers can take advantage of exciting lease opportunities available on select Mazda vehicles at the Trussville dealership.
Serra Mazda is promoting lease opportunities on select 2019 Mazda models, including the Mazda3 Sedan, Mazda3 Hatch, Mazda6, CX-3, CX-5 and CX-9. During the Season of Discovery Sales Event customers can enter 36-month leases on these select Mazda vehicles and pay just $3,250 at signing.
As a part of the event, customers can lease select 2019 Mazda6 Sport models for just $199 per month, 2019 Mazda3 Sedan Select models for $189 per month or 2019 Mazda3 Hatch Base models for $219 per month. Mazda SUV models are also included as a part of the event going on now at Serra Mazda. Select 2019 Mazda CX-3 Touring models are available to lease for just $199 per month or customers can opt for a 2019 Mazda CX-5 Sport for $189 per month or a 2019 Mazda CX-9 Sport for $289 per month.
To take part in the event customers must hold qualifying credit, which is subject to approval prior to signing. Season of Discovery lease opportunities are not eligible to be combined with any other sales or offers available at Serra Mazda.
More information about the Season of Discovery Sales Event can be found by visiting the dealership online at https://www.serramazda.com. Interested customers can also contact a Serra Mazda sales representative by calling 205-419-5556. The dealership is located at 1503 Gadsden Highway, Trussville, AL 35235 and is open Monday through Friday from 9 a.m. - 7:30 p.m. and from 9 a.m. - 7 p.m. on Saturdays each week.