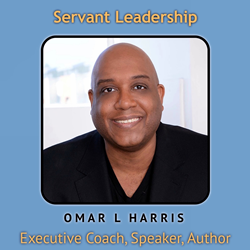 While Servant Leadership has been around for a while, the time is now to lead with love versus ego. Leaders need to flip the top-down hierarchy, and re-build trust in our new normal. - Omar L. Harris, Bestselling Author of "The Servant Leader's Manifesto"
CHARLOTTE, N.C. (PRWEB) November 16, 2020
At a time when personal and work relationships are challenged by a global pandemic and uncertainty, Former GM (Allergan and GSK), Intent Consulting Founder and Bestselling Author Omar L. Harris will be the "Servant Leadership" Bonus Content Guest Speaker at the Virtual Love IDEAS Summit this week, November 16-20, 2020. With 20+ years of global pharmaceutical experience, Harris will share first-hand insights on how to build high-performance teams based on trust versus toxic leadership.
As the Bestselling Author of "The Servant Leader's Manifesto" and "Leader Board: The DNA of High Performance Teams," Harris emphasizes, "While Servant Leadership has been around for a while, the time is now to lead with love versus ego. Leaders need to flip the top-down hierarchy, and re-build trust in our new normal."
Wayne Connell, Love IDEAS Summit Executive Producer and Invisible Disabilities® Association CEO and Founder, explains, "We're grateful to have Omar L. Harris speak at The Love IDEAS Summit about Servant Leadership. The program will provide real, practical, useful relationship advice that will both entertain and inspire you with new ideas for how to weather these difficult times of stress and isolation." Connell has put together an all-star line-up and program with Emmy-Award Winning Producer/Director Jess Stainbrook, who is also a speaker and the Executive Director of Invisible Disabilities® Association.
The online program includes five days of relationship-based content with 45+ speakers, including 10 expert presentations, 6 Relationship Roundtables and 10 Bonus Content Speakers focused on helping people discover new ways to strengthen relationships. There is no charge for tickets, which are compliments of the Invisible Disabilities® Association. Attendees are given the option to donate to this great cause at check-out.
Based on managing healthcare industry teams on four continents (U.S., Middle East, Asia, and Latin-America), attendees can gain insights from Harris' five Servant Leadership Success Principles, stories and more, including:
1. Why is it finally time for Servant Leadership to become the norm?
2. Why is leading with "Humility" so important today while working from home?
3. Why is "Trust" the key to "Leading with Love"?
4. How can you "Love Your Team" as a Servant Leader?
5. How can Servant Leaders engage employees in 2021 planning meetings virtually now and focus teams on supporting a "higher purpose"?
Bestselling authors also speaking at the Love IDEAS Summit include Ken Blanchard ("The New One Minute Manager"), John Gray PhD ("Men are from Mars, Women are from Venus"), Gary Chapman ("The 5 Love Languages"), Debbie Macomber (#1 New York Times Bestselling Author of "A Walk Along the Beach"), Gregory J. P. Godek ("1001 Ways to Be Romantic"), Karyn Buxman RN ("What's So Funny About Nursing?"), John O'Leary ("In Awe") and more.
In addition, actors, producers, veterans and other thought-leaders will be speaking at this 5-day online Love IDEAS Summit, including Bonnie Carroll (Presidential Medal of Freedom, a retired U.S. Air Force Reserve Officer), Tom Spooner (Warriors Heart Founder and Former Delta Force), Caryn Ward Ross (Actress, Producer, Writer, "Monogamy"), Alli Webb (Author, Entrepreneur and Founder of the "Dry Bar") and more.
REGISTER HERE - LOVE IDEAS SUMMIT (November 16-20, 2020)
No charge for tickets, compliments of the Invisible Disabilities® Association:
http://register.loveideas.org
AMAZON – Servant Leadership Books by Omar L Harris
The Servant Leader's Manifesto (April 2020)
https://www.amazon.com/gp/product/B086Z7HSBT/ref=dbs_a_def_rwt_bibl_vppi_i0
Leader Board: The DNA of High Performance Teams (Leader Board Series) (2019)
https://www.amazon.com/dp/B07QMJSMV3/ref=sr_1_1?keywords=Leader+Board&qid=1555283815&s=digital-text&sr=1-1
MEDIA CONTACT:
Liz H. Kelly, 310-987-7207
ABOUT: Omar L. Harris (Charlotte, NC, born in Pittsburgh, PA) is a Business and Servant Leadership Thought-Leader, Award-Winning Bestselling Author of 4 books (including "The Servant Leader's Manifesto", 2020 and "Leader Board: The DNA of High Performance Teams"), Intent Consulting Founder, and Former GM (GSK and Allergan). With 20+ years of global pharmaceutical executive experience building teams, Omar's worked on four continents (U.S., Middle East, Asia and Latin America) for Pfizer, Merck, Schering Plough and more. As a Gallup Certified Strengths Coach, Motivational Speaker and Entrepreneur, Harris is passionate about leading teams, high-performance coaching and inspiring future leaders today and tomorrow to adopt the servant leader mindset and stop toxic leadership behaviors. He's worked in corporate, along with startups and entrepreneur endeavors. Harris is also the Co-Author of "From Authors to Entrepreneurs F.A.T.E.: The Personal Side of Indie Publishing" (2015) and Author of "One Blood" fiction book (2011, pen name, Qwantu Amaru). His work has been featured on Black News Channel, Thrive Global, CEO World Magazine, South Charlotte Weekly, Fast Leader Show Podcast, Young Upstarts, The Rebel Road Podcast, Human Capital Innovations (HCI) Podcast, VoiceAmerica: Finding Your Frequency and more. As fun facts, Omar speaks 5 languages, plays 7 instruments, and started his first company at the age of 7. https://www.omarlharris.com