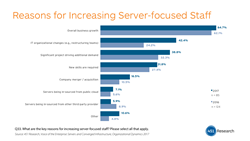 New York, NY (PRWEB) August 21, 2017
More than 65% of organizations surveyed in 451 Research's latest Voice of the Enterprise: Servers and Converged Infrastructure study say that recruiting for roles across both traditional servers and converged infrastructure is increasingly difficult. This comes at a time when organizations are looking to hire more server-based IT staff rather than reduce it in light of continued public cloud migration.
The key driver for increasing server-related employees in the next 12 months was overall business growth at 67.7%, followed by IT organizational changes at 42.4%. The worldwide survey found that concerns continue over the long-term costs of using public cloud and are spurring some IT managers to preserve or even expand their on-premises servers and converged infrastructure to support certain requirements.
"Most IT managers are closely scrutinizing their deployment options instead of blindly following the pack to IaaS and other off-premises cloud services," said Christian Perry, Research Manager and lead analyst of 451 Research's Voice of the Enterprise: Servers and Converged Infrastructure Service. "When determining the optimal mix of on- and off-premises compute resources, there is no doubt this is hampered by the availability of specialist skills and regional availability. Whether organizations will realize their expected server staff expansion remains to be seen due to hiring difficulties."
With the rise of cloud migration, 451 Research analysts expect that the worldwide pool of available full time employees dedicated to server administration will decline. The reasons cited for hiring difficulties are evidence of this trend: 69.7% of respondents said that current candidates lack skills and experience; plus a lack of candidates by region and high salaries point to a shrinking set of available talent.
The evolving makeup of IT teams also is impacting the availability of server personnel. When asked to identify which best characterizes the layout of their IT technical teams, the study's respondents were split nearly evenly between two key IT archetypes, with 40.4% choosing IT specialists and 39.4% choosing IT generalists. Over the last two years, 451 Research has reported a trend veering toward generalists, particularly as automation, orchestration and software-defined technologies take hold.
"The time and resource savings from these new technologies results in a slightly reduced need for server specialists," Perry said. "The good news is that there remains a need for specialists across both standalone servers and converged and hyperconverged infrastructures. This is especially true within LOBs or remote divisions or departments."
451 Research believes this need for specialists presents an opportunity for server, converged infrastructure and hyperconverged vendors to work closely with customers and prospects to help them understand the long-term staffing implications of their products. Some IT managers align their server purchasing and staffing with anticipated business growth, and expected rises in server- and converged infrastructure-related staffing partly reflect these practices.
As adoption of software-defined infrastructure technologies increases, for example using hyperconverged infrastructure, organizations can gain new staffing efficiencies that fall outside that traditional staffing policy and practice. 451 Research analysts believe vendors can benefit by acting as trusted advisor, helping customers achieve proper staffing levels through a deeper understanding of optimal infrastructure use and resource distribution.
About the survey
Combining 451 Research's industry-leading analysis with an extensive network of over 60,000 senior IT professionals, Voice of the Enterprise: Servers and Converged Infrastructure tracks the disruption occurring in the market and exposes the major opportunities for enterprises, IT vendors, suppliers and investors. The latest study, published in July 2017, represents more than 525 web-based surveys completed by IT and server decision makers worldwide, supplemented by 19 in-depth phone interviews. The sample is representative of small, medium, large and very large organizations in both the private and public sectors.
About 451 Research
451 Research is a preeminent information technology research and advisory company. With a core focus on technology innovation and market disruption, we provide essential insight for leaders of the digital economy. More than 100 analysts and consultants deliver that insight via syndicated research, advisory services and live events to more than 1,000 client organizations in North America, Europe and around the world. Founded in 2000 and headquartered in New York, 451 Research is a division of The 451 Group. Learn more.
For media inquiries please contact:
Meghan MacDonald
Media.inquiry(at)451research(dot)com
617-598-7212