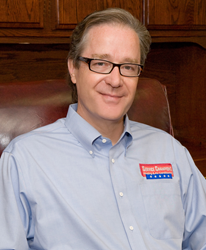 We are very proud and honored to be able to help such a wonderful cause that allows families to enjoy a retreat during a difficult time. - Leland Smith
Yorba Linda, CA (PRWEB) July 29, 2014
Service Champions Heating & Air Conditioning's contribution is aimed to help Little Pink Houses of Hope continue to host families in need of a special getaway. The organization has many retreats where families' time will be centered around promoting "breast cancer recovery by offering opportunities for survivors to reconnect and celebrate life." – Little Pink Houses of Hope website.
As California's first choice HVAC contractors, Service Champions has earned the trust of thousands of families through superior customer service that extends beyond heating and air conditioning. Through generous social service and volunteerism, it has now become an integral part of Orange and Los Angeles Counties communities. Service Champions has joined in on the efforts of Little Pink Houses of Hope in welcoming more families who have experienced the hardships of breast cancer to a reenergizing getaway, creating a stress-free environment where each member of the family can focus on enjoying recreational activities and strengthening relationships.
"We are very proud and honored to be able to help such a wonderful cause that allows families to enjoy a retreat during a difficult time." – Leland Smith.
Little Pink Houses of Hope found its start in North Carolina and offers retreats nationwide including California, Maryland and Delaware. One family is hosted per home with the accompaniment of staff members who clean, cook and serve the family. Morning and evening activities are planned with afternoons left open as down time. Many of these locations are beachfront homes and family members can participate in exercise classes, kayaking, parasailing, fishing expeditions, golf or spa treatments. Housing and activities are provided free of cost to the family. The retreats are designed with the breast cancer patient and her family in mind.
Founder Jeanine Patten-Coble wanted this special retreat to be a time for families to "foster family bonds through relaxed play and time away." – Little Pink Houses of Hope website. These retreat vacations are made possibly through donations and good-willed patrons. Volunteers make up the staff and crew of Little Pink Houses of Hope. Service Champions has recently joined that roster of donors with a monetary contribution that helps fund Little Pink Houses of Hope and its services.
Service Champions delivers aid to service organizations that make the greatest impact within the community, ensuring that the people who benefit are those most in need. Their donation allows for families not only to participate in Little Pink Houses of Hope retreats but to return home filled with faith, strength and energy to face the rest of their journey.
About Service Champions Heating & Air Conditioning
Service Champions is the only Diamond Certified Orange County heating and air conditioning provider in Southern California. Its technicians have serviced thousands of homes across Southern California and holds to its promise of excellent customer service and expert technical care. As a leader in the HVAC industry, Service Champions technicians have set high standards for any competing contractor with extraordinary service that goes beyond heating and air conditioning for homes.
Service Champions Heating & Air Conditioning
Contact Katey Becker
22911 Savi Ranch Parway
Yorba Linda, CA 92887
714-453-1219
http://www.servicechampions.com