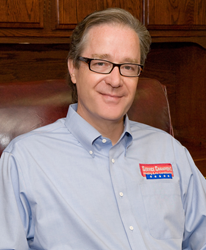 I'm honored to have Service Champions involved with the Illumination Foundation. Assisting homeless individuals break the cycle is near and dear to my family's heart, and I'm proud to be able to offer our services
Yorba Linda, CA (PRWEB) August 29, 2014
Service Champions Heating & Air Conditioning continues to give back to the local community. This time, the recipient is a Santa Ana home which is operated by the Illumination Foundation. Service Champions will donate and install two full central heating and air conditioning systems and ductwork on September 2nd and 3rd, 2014.
"I'm honored to have Service Champions involved with the Illumination Foundation. Assisting homeless individuals break the cycle is near and dear to my family's heart, and I'm proud to be able to offer our services," said Leland Smith, owner of Service Champions Heating & Air Conditioning.
The Illumination Foundation was founded in 2007 with the mission to "provide targeted, interdisciplinary services for the most vulnerable homeless clients to break or prevent the cycle of homelessness." Their teams of homelessness experts work within Orange County communities with children and adults most in need of resources, training and education. According to their website, just within the past year the Illumination Foundation has helped 1,650 families find stable housing, 1,000 adults prepare for employment, 1,400 children with life skills and 10,000 patients receive health care with an additional 1,800 recuperating clients helped to acclimate back into everyday life. With curricula designed to train and apply to real-life scenarios, the Illumination Foundation helps individuals and families yield positive, long-lasting results, experiencing better quality of life as individuals and families are brought to their feet. Their efforts and hands-on approach produce self-sufficient and active community members whose potential is no longer held back by homelessness or lack of resources.
Since the families seeking assistance from the Illumination Foundation are currently homeless or in an equally disadvantageous position, providing a comfortable and protected environment is of absolute importance. Service Champions' contribution helps create that environment for the Illumination Foundation. With proper air conditioning and heating, these families are able to find refuge from discomforting weather conditions and instead discover a new social climate of encouragement and hope. The Illumination Foundation has several sites dedicated to facilitating meetings and trainings, one of which will be fitted with two new heating and air conditioning systems by Service Champions. The facility receiving this service is a multi-service center that focuses on housing services, workforce services, counseling and children services which includes after school programs, tutoring and play activities.
The installation will be completed personally by Service Champions experts, the only Diamond-Certified heating and air conditioning provider for Orange and Los Angeles Counties.
# # #
About Service Champions Heating & Air Conditioning
Service Champions is the only Diamond Certified Los Angeles and Orange County heating and air conditioning provider in Southern California. Its technicians have serviced thousands of homes across Southern California and holds to its promise of excellent customer service and expert technical care. As a leader in the HVAC industry, Service Champions technicians have set high standards for any competing contractor with extraordinary service that goes beyond heating and air conditioning for homes.
Service Champions Heating & Air Conditioning
Contact Katey Becker
22911 Savi Ranch Parway
Yorba Linda, CA 92887
714-453-1219
http://www.servicechampions.com