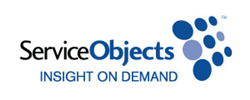 "Our Name Validation service is a proven solution for ensuring your contact names are accurate and legitimate, which is essential to maintaining your brand reputation."– Geoff Grow, Founder and CEO, Service Objects
SANTA BARBARA, Calif. (PRWEB) December 14, 2022
Service Objects, the leading provider of real-time contact data validation solutions, is pleased to announce an informative public webinar on how Name Validation can help your business. The event features Sr. Product Marketing Manager Rob Manser, who will discuss the benefits and specific use cases for Name Validation. The event, entitled "What's in a Name?", will be held on Wednesday, January 25th at 11am PST/2pm EST. For registrants who cannot attend the live event, a recording will be made available.
Attendees will learn how Name Validation allows your business to verify first and last names, correct common mistakes and flag bogus, garbage, vulgar, and celebrity names before they enter your database. The powerful service detects whether a name is a business or person, associates gender data, and helps identify bogus leads at the point of entry, using a 40-step process returning a quantitative quality score.
The online webinar will also discuss how industry-leading companies use Service Objects' DOTS Name Validation to protect their brand and avoid embarrassing personalization situations. Attendees will see how easy it is to integrate Name Validation with popular business automation and CRM platforms and have an opportunity to obtain a free trial, valid for 500 transactions.
"Contact names are key to effective personalization in your marketing and customer contact efforts," said Geoff Grow, Founder and CEO of Service Objects. "Our Name Validation service is a proven solution for ensuring your contact names are accurate and legitimate, which is essential to maintaining your brand reputation. This webinar will show your business how to leverage this tool to improve sales and marketing performance and protect your business from fraud."
Featured speaker Rob Manser has a passion for all things marketing: with over 20 years of omni-channel marketing experience and a deep understanding of how data quality impacts a business, he is uniquely positioned to discuss its impact on your sales and marketing efforts.
Register here to join this free webinar. To learn more about Service Objects' suite of contact data quality solutions, please visit our website.
Founded in 2001, Service Objects is the leading provider of contact validation solutions, validating online transactions in real-time, including contact name, address, phone, email, and device. Using Service Objects' global validation and location web services, businesses can identify potentially fraudulent contact records, append additional contact information, and process transactions in a more efficient manner. Service Objects has validated nearly 6 billion contacts, and major brands such as American Express, Microsoft, and Amazon rely on Service Objects for their data validation needs. For more information about Service Objects' real-time web services, contact sales@serviceobjects.com.