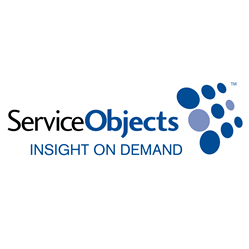 "With over 700 million packages predicted to be delivered late this holiday season, businesses that have accurate and up-to-date delivery addresses will gain a significant competitive advantage." – Geoff Grow, Founder and CEO of Service Objects
SANTA BARBARA, Calif. (PRWEB) September 30, 2020
In the face of unprecedented demand for online shopping during a global pandemic, experts are forecasting record growth in e-commerce for the 2020 holiday shopping season. In response to this, Service Objects, the leading provider of real-time global contact validation solutions, announced it enables businesses worldwide to accurately ship orders when using their DOTS Address Validation – US and DOTS Address Validation – International services.
This year has seen explosive e-commerce growth in the face of the current COVID crisis. Recent statistics show that the industry has grown over 4 years ahead of schedule, with 47% growth in the first half of 2020 alone. Salesforce.com now predicts that up to 30% of global retail sales will be made digitally during this year's holiday season, and that demand for last-mile delivery during this period will exceed capacity by 5% - translating to roughly 700 million late deliveries.
The result is accurate and up-to-date address data has become more critical than ever. Service Objects is ready to help businesses improve their delivery rates this holiday season with two of its flagship contact data validation services:
Address Validation – US is a CASS-certified, API-based tool that instantly verifies, corrects and appends US mailing addresses with near-perfect accuracy, using proprietary databases that are continually updated. It includes capabilities such as Delivery Point Validation (DPV), Residential Delivery Indicator (RDI) and SuiteLink to provide industry-leading delivery intelligence.
For global contacts, Address Validation – International processes addresses for over 250 countries with a 99.5% match accuracy while correcting to each country's postal formats and idiosyncrasies. It is truly a global solution, supporting transliteration and over 25,000 alternate country names and variations in different languages.
"With over 700 million packages predicted to be delivered late this holiday season, businesses that have accurate and up-to-date delivery addresses will gain a significant competitive advantage," said Founder and CEO Geoff Grow. "Service Objects has validated over 4 billion contact records, and we are fully staffed and prepared to support businesses by offering 24/7/365 support and 99.999% server uptime to keep them running smoothly and profitably."
To get started using our Address Validation services or to learn more about how to solve shipping and delivery challenges this holiday season, please visit our website.
About Service Objects
Founded in 2001, Service Objects is the leading provider of contact validation solutions, validating online transactions in real-time, including contact name, address, phone, email, and device. Using Service Objects' global validation and location web services, businesses can identify potentially fraudulent contact records, append additional contact information, and process transactions in a more efficient manner. Service Objects has validated over 4 billion contacts, and major brands such as American Express, Microsoft, and Amazon rely on Service Objects for their data validation needs. For more information about Service Objects' real-time web services, contact sales@serviceobjects.com.