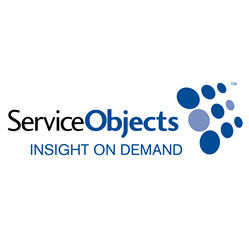 "Global Address Complete adds a new dimension of productivity and validation to every address entry touchpoint, for more accurate billing, shipping, delivery and more." -Geoff Grow, Founder and CEO, Service Objects
SANTA BARBARA, Calif. (PRWEB) March 30, 2021
Service Objects, the leading provider of real-time global contact validation solutions, is pleased to announce that its new Global Address Complete service can now be easily integrated with Microsoft Dynamics 365 products, and is now available through Microsoft's AppSource marketplace.
Global Address Complete is an advanced address autocomplete tool, providing real-time type-ahead suggestions from the first keystroke. It offers response times as fast as 100 milliseconds, address accuracy to the apartment and suite level, and support for addresses in over 250 countries.
Service Objects' Global Address Complete is the only address autosuggest capability featuring embedded address validation to ensure address accuracy and deliverability. Going beyond traditional autocomplete tools, this service can instantly validate addresses against authoritative international location data, meaning only genuine and accurate addresses are recorded to your Commerce, CRM, and other Dynamics 365 products.
Its simple, secure, and seamless integration with Dynamics' suite of products ensures that data is captured quickly and accurately, reducing data entry time by 80% for your ecommerce website, CRM, or call center. It is particularly valuable for Dynamics 365 Commerce platform users, where it can reduce cart abandonment by up to 30% and improve delivery accuracy.
"We are pleased to add this new product as part of our valuable partnership with Microsoft," notes Geoff Grow, Founder and CEO, Service Objects. "Global Address Complete adds a new dimension of productivity and validation to every address entry touchpoint, for more accurate billing, shipping, delivery and more."
Global Address Complete now joins Service Objects' other contact data quality services on AppSource, including lead validation and scoring for the US and Canada, address validation for US and international addresses, reverse phone lookup and email validation. For more information on integrating any of Service Objects' data quality products with Microsoft Dynamics 365, please contact us.
About Service Objects
Founded in 2001, Service Objects is the leading provider of contact validation solutions, validating online transactions in real-time, including contact name, address, phone, email, and device. Using Service Objects' global validation and location web services, businesses can identify potentially fraudulent contact records, append additional contact information, and process transactions in a more efficient manner. Service Objects has validated over 4 billion contacts, and major brands such as American Express, Microsoft, and Amazon rely on Service Objects for their data validation needs. For more information about Service Objects' real-time web services, contact sales@serviceobjects.com.