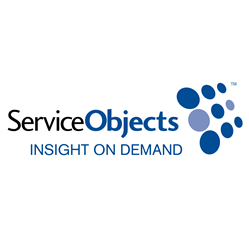 "Service Objects' Lead Validation services will instantly score key contact data points and allow businesses to quickly assess the quality of their database and improve this data."-Geoff Grow, Founder and CEO of Service Objects
SANTA BARBARA, Calif. (PRWEB) September 03, 2020
In the midst of a global pandemic and economic recession, many firms are facing significant cuts to budgets for generating new leads and market development. Service Objects, the leading provider of real-time global contact validation solutions, announced it is helping businesses improve the ROI for their existing leads by leveraging the sophisticated business logic and lead scoring in its DOTS Lead Validation services.
Available in versions for USA/Canada and international leads, these services analyze and cross-check over 130 data points to generate a quantitative lead quality score ranging from 0-100. The services also provide detailed scoring on each of the lead's five main individual components, including name, address, phone, email and device.
The result is global organizations can be sure contact data for existing prospects and customers is genuine, accurate and up-to-date. In addition, using data-driven business logic enables you to appropriately weight the data elements that are most meaningful to your business, creating a customized lead quality score that is specific to your needs.
"In the midst of dealing with the effects of the COVID-19 pandemic, many businesses are significantly cutting marketing budgets and leveraging their existing database of leads and customers, which are very valuable assets," said Geoff Grow, Founder and CEO of Service Objects. "Service Objects' Lead Validation services will instantly score key contact data points and allow businesses to quickly assess the quality of their database and improve this data, enabling them to more effectively communicate with each individual."
If your contact database contains aging or inaccurate data, Service Objects can help. For more information, please visit our website.
About Service Objects
Founded in 2001, Service Objects is the leading provider of contact validation solutions, validating online transactions in real-time, including contact name, address, phone, email, and device. Using Service Objects' global validation and location web services, businesses can identify potentially fraudulent contact records, append additional contact information, and process transactions in a more efficient manner. Service Objects has validated over 4 billion contacts, and major brands such as American Express, Microsoft and Amazon rely on Service Objects for their data validation needs. For more information about Service Objects' real-time web services, contact sales@serviceobjects.com.