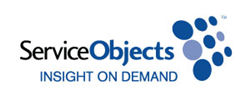 "Name Validation provides an automated way to help ensure you are communicating with your customers correctly, while at the same time maintaining the integrity of your contact data."– Geoff Grow, Founder and CEO, Service Objects
SANTA BARBARA, Calif. (PRWEB) August 04, 2022
Service Objects, the leading provider of real-time contact data validation solutions, is pleased to announce the latest release of DOTS Name Validation, an industry-leading tool for ensuring that you have accurate, genuine contact names for your prospects and customers.
Using a global database of more than 1.4 million first names and 2.75 million last names, Name Validation verifies names and corrects common mistakes, identifies possible name variations, and supports global personalization with accented characters. Using proprietary data resources and sophisticated AI, it also flags bogus, garbage, vulgar, and celebrity names to help prevent fraudulent contacts from reaching your database.
Name Validation supports uniformity and consistency across multiple internal systems, to standardize names in a common format, handle prefixes, suffixes and couple names, and facilitate the removal of redundant data. It also seamlessly integrates with leading CRM and marketing applications using API interfaces, automating the process of validating accurate first and last names for your contact data.
"In today's competitive marketplace, people expect a highly personalized experience tailored to their individual interests. This starts with getting customer and prospects' names right," said Geoff Grow, Founder and CEO of Service Objects. "Name Validation provides an automated way to help ensure you are communicating with your customers correctly, while at the same time maintaining the integrity of your contact data."
All Service Objects' services feature expert implementation assistance, 24/7/365 technical support and the industry's only financially guaranteed 99.999% uptime. To learn more about Name Validation or any of Service Objects' contact data quality solutions, or to request a free live demo, please visit our website.
About Service Objects
Founded in 2001, Service Objects is the leading provider of contact validation solutions, validating online transactions in real-time, including contact name, address, phone, email, and device. Using Service Objects' global validation and location web services, businesses can identify potentially fraudulent contact records, append additional contact information, and process transactions in a more efficient manner. Service Objects has validated over 5 billion contacts, and major brands such as American Express, Microsoft, and Amazon rely on Service Objects for their data validation needs. For more information about Service Objects' real-time web services, contact sales@serviceobjects.com.