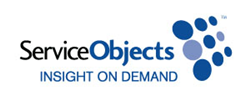 Address autocomplete capabilities have become an important part of the movement towards frictionless e-commerce. This new whitepaper will help businesses avoid common pitfalls in choosing a product.- Geoff Grow, Founder and CEO, Service Objects
SANTA BARBARA, Calif. (PRWEB) May 13, 2021
Service Objects, the leading provider of real-time global contact validation solutions, is pleased to announce a free whitepaper on how to select an address autocomplete product. The whitepaper provides a detailed overview of what to look for when using these products with business applications, as well as an introduction to Service Objects' own DOTS Global Address Complete product, the only autocomplete service with address validation built-in.
Address autocomplete capabilities for web and business forms offer dramatic improvements in productivity, address accuracy and customer experience. They can reduce the number of keystrokes needed for address entry by up to 80% by automating the selection of mailing and billing addresses, providing a more seamless experience for e-commerce applications.
However, many current autocomplete tools lack the capabilities needed for intensive ecommerce and business applications, such as apartment and suite-level addressing, international capabilities, and address validation. This new whitepaper provides a detailed overview of how autocomplete works, including business use cases, facts and statistics about address capture, and a checklist of capabilities to look for in your address autocomplete product search.
It also introduces Global Address Complete, designed from the ground up for business and e-commerce, where it can reduce cart abandonment by up to 30% and improve delivery accuracy. It provides real-time type-ahead suggestions from the first keystroke, response times as fast as 100 milliseconds, address accuracy to the apartment and suite level, and support for addresses in over 250 countries, as well as integrated CASS-certified USPS address validation.
"Address autocomplete capabilities have become an important part of the movement towards frictionless e-commerce," notes Geoff Grow, Founder and CEO, Service Objects. "This whitepaper will help businesses avoid common pitfalls in choosing a product and shows how Global Address Complete can provide a secure, business quality solution for more accurate billing, shipping, delivery and more."
Along with this new whitepaper, Service Objects is offering a free license key for testing Global Address Complete with up to 500 transactions, as well as expert implementation assistance, available 24/7/365 technical support, and guaranteed 99.999% uptime. For more information on Global Address Complete or any of Service Objects' data quality products, please contact us.
About Service Objects
Founded in 2001, Service Objects is the leading provider of contact validation solutions, validating online transactions in real-time, including contact name, address, phone, email, and device. Using Service Objects' global validation and location web services, businesses can identify potentially fraudulent contact records, append additional contact information, and process transactions in a more efficient manner. Service Objects has validated over 4 billion contacts, and major brands such as American Express, Microsoft, and Amazon rely on Service Objects for their data validation needs. For more information about Service Objects' real-time web services, contact sales@serviceobjects.com.