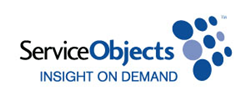 Account fraud and identity theft have shown unprecedented levels of growth over the past year, and Lead Validation - International is engineered to help businesses take back control over their incoming leads.– Geoff Grow, Founder and CEO
SANTA BARBARA, Calif. (PRWEB) May 19, 2021
Service Objects, the leading provider of real-time global contact validation solutions, announced a major new release of its DOTS Lead Validation - International service. This upgrade provides better capabilities for helping businesses worldwide fight fraud through better identification of potentially bogus or malicious leads. According to the Aite Group, new account opening fraud at financial institutions grew by 150% in 2020, with fraudulent contact data playing a major role.
This new release significantly improves detection of bad or fraudulent leads, particularly regarding business leads, with enhanced detection and cross-referencing to determine poor quality emails, names and phone numbers for businesses. It adds new logic for detecting garbage email or phone contact data, vulgar business names and identifies mismatches between business names and email addresses. It also substantially enhances international coverage for detection of fraudulent leads.
These improvements strengthen Lead Validation - International's industry-leading capabilities to ensure you are working with real people and viable leads, performing multi-point validation and cross-referencing of contact data points for leads in over 250 countries using hundreds of authoritative data sources. It provides an overall quantitative score of lead quality from 0 to 100 as well as separate quality scores for individual data points, and can be integrated with leading CRM and marketing automation platforms via API interfaces.
"Account fraud and identity theft have shown unprecedented levels of growth over the past year, and Lead Validation - International is engineered to help businesses take back control over their incoming leads," said Geoff Grow, Founder and CEO, Service Objects. "This latest release represents a significant upgrade to our global lead validation capabilities and is part of Service Objects' commitment to ongoing product improvement."
This new release is now available to all customers and a free trial key for testing or a demo can be requested on our Lead Validation - International product page. For more information or to learn how any of Service Objects' services can help your business fight identity theft and fraud, please contact us.
About Service Objects
Founded in 2001, Service Objects is the leading provider of contact validation solutions, validating online transactions in real-time, including contact name, address, phone, email, and device. Using Service Objects' global validation and location web services, businesses can identify potentially fraudulent contact records, append additional contact information, and process transactions in a more efficient manner. Service Objects has validated nearly 5 billion contacts, and major brands such as American Express, Microsoft, and Amazon rely on Service Objects for their data validation needs. For more information about Service Objects' real-time web services, contact sales@serviceobjects.com.