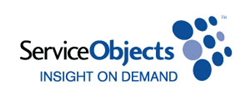 "These new capabilities enable organizations to detect fraud and improve the efficiencies of shipping and delivery logistics, saving them significant time and money."– Geoff Grow, Founder and CEO, Service Objects
SANTA BARBARA, Calif. (PRWEB) November 29, 2022
Service Objects, the leading provider of real-time contact data validation solutions, is pleased to announce an important upgrade to its DOTS Address Validation services. This latest enhancement now adds the ability to detect transient or potentially risky addresses, including hotels, prisons, and freight forwarders (FF).
This new capability goes beyond Address Validation and enables users to flag these facility types based on the address provided. These flags support a number of scenarios, including fighting fraud, supporting delivery logistics and maintaining clean, deliverable mailing lists.
Service Objects' Address Validation services verify and correct addresses for over 250 countries worldwide, ensuring addresses are valid and deliverable for shipping and delivery logistics, customer communications, marketing initiatives and compliance efforts. Accurate addresses are provided down to the apartment and suite level, increasing delivery and shipping accuracy, enabling access to significant postal discounts, and improving customer outcomes while reducing customer service inquiries.
Geoff Grow, Founder and CEO of Service Objects, notes: "We are continuously improving our products to meet our customers' business applications, and the detection of potentially risky facility types was developed in response to specific requests from our customers. These new capabilities enable organizations to detect fraud and improve the efficiencies of shipping and delivery logistics, saving them significant time and money."
This new enhancement is now available to all who utilize Service Objects' Address Validation services. To learn more about this new capability or any of our contact data quality solutions, or to request a free live demo, please visit our website.
Founded in 2001, Service Objects is the leading provider of contact validation solutions, validating online transactions in real-time, including contact name, address, phone, email, and device. Using Service Objects' global validation and location web services, businesses can identify potentially fraudulent contact records, append additional contact information, and process transactions in a more efficient manner. Service Objects has validated nearly 6 billion contacts, and major brands such as American Express, Microsoft, and Amazon rely on Service Objects for their data validation needs. For more information about Service Objects' real-time web services, contact sales@serviceobjects.com.