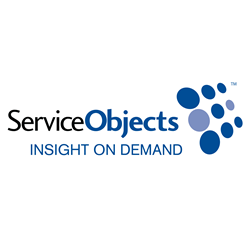 "We are proud to offer industry-leading capabilities for international addresses at a historic point in time where worldwide retail and digital markets are growing faster than ever."– Geoff Grow, Founder and CEO of Service Objects
SANTA BARBARA, Calif. (PRWEB) October 14, 2020
Service Objects, the leading provider of real-time global contact validation solutions, is announcing a significant upgrade to its DOTS Address Validation – International (AVI) service for correcting, standardizing and appending global addresses in real time. This major new release substantially enhances both its processing logic and address coverage, just in time for a predicted record 2020 holiday shopping season.
This new release dramatically increases the number of global addresses that can be processed at street level or better, now covering 88% of the world's countries – a more than threefold increase in the number of countries covered at this level. Overall, global address coverage has been increased by a total of 77% compared with the previous release.
These expanded capabilities include subpremise level validation at the apartment or suite level for an additional 14 countries, including Canada, Australia, the United Kingdom, Hong Kong and many more. It also includes transliteration capabilities for eight countries including Japan and China, together with existing capabilities to validate addresses in local languages.
In addition, Address Validation – International provides support for over 250 countries and territories worldwide, verifying and correcting addresses to each country's postal formats and cultural idiosyncrasies, supporting over 25,000 alternate country names and language variations. Continually updated on a daily basis from country-specific postal authorities, AVI offers up to 99.5% match accuracy and response times as fast as 200 milliseconds.
"These expanded capabilities represent a major investment on the part of Service Objects to serve an increasingly global marketplace," said Founder and CEO Geoff Grow. "We are proud to offer industry-leading capabilities for international addresses, alongside our flagship address validation services for the United States and Canada, at a historic point in time where worldwide retail and digital markets are growing faster than ever."
Address Validation – International integrates easily via API interfaces with major business automation platforms, and like all Service Objects services, features guaranteed 99.999% uptime, expert implementation assistance and 24/7/365 technical support. To learn more about Address Validation – International, please visit our website.
About Service Objects
Founded in 2001, Service Objects is the leading provider of contact validation solutions, validating online transactions in real-time, including contact name, address, phone, email, and device. Using Service Objects' global validation and location web services, businesses can identify potentially fraudulent contact records, append additional contact information, and process transactions in a more efficient manner. Service Objects has validated over 4 billion contacts, and major brands such as American Express, Microsoft, and Amazon rely on Service Objects for their data validation needs. For more information about Service Objects' real-time web services, contact sales@serviceobjects.com.