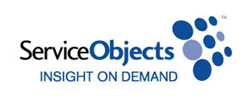 "These new data points can help provide a better picture of hotspots during this COVID-19 outbreak by taking into account climate, population density and county area size." - Geoff Grow, CEO, Service Objects
SANTA BARBARA, Calif. (PRWEB) May 04, 2020
Service Objects, the leading provider of real-time global contact validation solutions, has added additional data to an enhanced data set of COVID-19 case data being made freely available to assist researchers, data scientists and others involved in combating this global pandemic. This new data includes average temperatures as well as case and death data by population and area within each locality.
This dataset uses COVID-19 case data from the 2019 Novel Coronavirus Visual Dashboard operated by the Johns Hopkins University Center for Systems Science and Engineering (JHU CSSE). Service Objects is using its authoritative data resources to dedupe, clean and append this data with over 200 additional data points by US county from sources such as NOAA, WHO, the US Census and others. Further details about this dataset are available here.
New additions to the COVID-19 dataset include 5-year monthly average temperatures for each geographic area, in degrees Fahrenheit, broken down per month. This is based on weather data from NOAA, and while this is not a database of up-to-date weather data, these 5-year averages can serve as useful predictive data. Also included are confirmed cases and deaths per 100,000 people and cases and deaths per square mile. These additions provide researchers even more granularity when analyzing the data.
"These new data points can help provide a better picture of hotspots during this COVID-19 outbreak, and expand normal confirmed case and death statistics to take into account climate, population density and county area size," said Geoff Grow, CEO of Service Objects. "This is part of our ongoing efforts to assist in identifying trends that could help combat this deadly virus."
Copies of this dataset are available free of charge at this link and will be updated on a regular basis. For further information or questions regarding this dataset, please contact us at coviddata@serviceobjects.com.
About Service Objects
Founded in 2001, Service Objects is the leading provider of contact validation solutions, validating online transactions in real-time, including contact name, address, phone, email, and device. Using Service Objects' global validation and location web services, businesses can identify potentially fraudulent contact records, append additional contact information, and process transactions in a more efficient manner. Service Objects has validated over 4 billion contacts, and major brands such as American Express, LendingTree, and Amazon rely on Service Objects for their data validation needs. For more information about Service Objects' real-time web services, contact sales@serviceobjects.com.