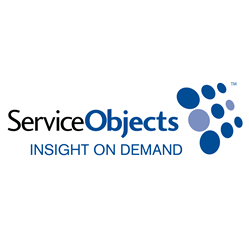 "Our Global Address Complete service combines high-speed address suggestion with verified, deliverable address data, standardized to the mailing formats of countries worldwide using continually updated postal data. The result is significantly improved delivery rates." - Geoff Grow, Founder and CEO
SANTA BARBARA, Calif. (PRWEB) March 03, 2021
Service Objects, the leading provider of real-time global contact validation solutions, announced that its new address autosuggestor service, DOTS Global Address Complete, provides superior results accuracy for global addresses, including many with apartment or suite numbers that are critical for last-mile delivery.
In addition to these subpremise-level capabilities, Global Address Complete is the only autosuggest service that embeds industry-leading address validation capabilities at no extra charge, ensuring the address that is selected can actually receive deliveries. All other competitive services allow customers to choose an address that may be incomplete or unable to accept deliveries, resulting in increased costs and a poor customer experience.
Global Address Complete suggests addresses in real-time, right from the first keystroke, as addresses are typed into web forms. It is easily integrated with all ecommerce platforms using our simple JavaScript allowing for quick deployment. Embedding Global Address Complete immediately reduces common errors and cart abandonment by over 30%, while improving conversion rates.
"Accurate and timely address suggestion is critical to improving the ecommerce experience, particularly on mobile devices," said Geoff Grow, Founder and CEO, Service Objects. "Our Global Address Complete service combines high-speed address suggestion with verified, deliverable address data, standardized to the mailing formats of countries worldwide using continually updated postal data. The result is significantly improved delivery rates."
You can test-drive Global Address Complete yourself directly on Service Objects' website and consult with our knowledgeable product experts on how to implement this and other global data quality tools in your own environment.
Like all Service Objects products, Global Address Complete features guaranteed 99.999% uptime, expert implementation assistance and 24/7/365 technical support. Learn more about this new service or request a trial key that provides 500 free transactions.
About Service Objects
Founded in 2001, Service Objects is the leading provider of contact validation solutions, validating online transactions in real-time, including contact name, address, phone, email, and device. Using Service Objects' global validation and location web services, businesses can identify potentially fraudulent contact records, append additional contact information, and process transactions in a more efficient manner. Service Objects has validated over 4 billion contacts, and major brands such as American Express, Microsoft, and Amazon rely on Service Objects for their data validation needs. For more information about Service Objects' real-time web services, contact sales@serviceobjects.com.