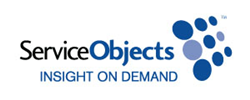 "This major new product release now opens up the power of geocoding to businesses of all sizes serving the world market." - Geoff Grow, CEO, Service Objects
SANTA BARBARA, Calif. (PRWEB) April 23, 2020
Service Objects, the leading provider of real-time global contact validation solutions, is pleased to announce the release of DOTS Address Geocode – International. This new service aggregates numerous datasets from around the world to return the best latitude, longitude and address location details possible for international addresses.
Address Geocode – International works with any address worldwide, returning coordinates indicating where this address is located, together with address data ranging from locality data to Census information for US addresses. It is capable of following conventions for each country's postal system for parsing and storing addresses and returns latitude and longitude results at one of 16 levels of precision based on available data. A few map links, such as a Google map URL, are provided for mapping purposes or to quickly test that the result mapped properly.
This new product integrates with leading business automation platforms via API interfaces, and supports REST, SOAP, GET and POST requests over HTTPS as well as outputs in JSON and XML formats. It also employs a dynamic interface that provides for expanded future capabilities while preserving existing implementations. In addition, Address Geocode – International's technology improves Service Objects' existing capabilities for geocoding US and Canadian addresses, including the introduction of property/rooftop level matches for many cases as well as improved location data for rural addresses.
"Geocoding has an increasingly important range of global applications nowadays, including mapping client locations, targeted marketing, government compliance and much more," said Geoff Grow, CEO of Service Objects. "This major new product release opens up the power of geocoding to businesses of all sizes serving the world market."
As with all of Service Objects' data quality products, Address Geocode – International comes bundled with industry-leading 24/7/365 technical support, expert implementation assistance, and guaranteed 99.999% uptime with the industry's only financially-backed service level agreement. To request a free trial key or demo for Address Geocode – International, please visit our website.
About Service Objects
Founded in 2001, Service Objects is the leading provider of contact validation solutions, validating online transactions in real-time, including contact name, address, phone, email, and device. Using Service Objects' global validation and location web services, businesses can identify potentially fraudulent contact records, append additional contact information, and process transactions in a more efficient manner. Service Objects has validated over 4 billion contacts, and major brands such as American Express, LendingTree, and Amazon rely on Service Objects for their data validation needs. For more information about Service Objects' real-time web services, contact sales@serviceobjects.com.