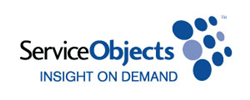 We now process over half a billion transactions per year, and by employing adaptive machine learning, our products learn from these transactions to improve the quality of our proprietary databases. - Geoff Grow, Chief Executive Officer, Service Objects
SANTA BARBARA, Calif. (PRWEB) March 17, 2020
Service Objects, the leading provider of real-time global contact validation solutions, announced it is delivering enhanced results for contact data validation by coupling artificial intelligence (AI) capabilities with its extensive network of over 300 data sources. This combination makes these services the most complete and accurate contact validation APIs available today.
Service Objects' APIs allow customers to validate global contact information within their software platforms. These services can verify a contacts' name, global address, phone, email address and device simultaneously against hundreds of authoritative data sources, all in less than a second.
Service Objects' services work with a process of adaptive machine learning that continually improves their capabilities, leveraging the results of previous transactions. With each transaction processed, the systems behind these services get better and more intelligent at detecting incorrect or fraudulent information, improving speed and accuracy for future transactions.
"Artificial intelligence gives our customers some very real advantages," said Geoff Grow, Chief Executive Officer at Service Objects. "We now process over half a billion transactions per year, and by employing adaptive machine learning, our products learn from these transactions to improve the quality of our proprietary databases. This allows us to provide the most accurate and up-to-date data for the mission-critical needs of our clients."
These artificial intelligence capabilities are part of a process of continual product improvement, together with Service Objects' focus on quality service and reliability – a reputation that includes 24/7/365 support, industry-leading technical expertise, bank-grade security and guaranteed 99.999% uptime. Service Objects' services integrate with leading CRM, sales and marketing automation platforms to provide seamless capabilities within your business environment.
To learn more about any of our global contact validation services, get a free trial or request a demo, please visit our website.
About Service Objects
Founded in 2001, Service Objects is the leading provider of contact validation solutions, validating online transactions in real-time, including contact name, address, phone, email, and device. Using Service Objects' global validation and location web services, businesses can identify potentially fraudulent contact records, append additional contact information, and process transactions in a more efficient manner. Service Objects has validated over 4 billion contacts, and major brands such as American Express, LendingTree, and Amazon rely on Service Objects for their data validation needs. For more information about Service Objects' real-time web services, contact sales@serviceobjects.com.