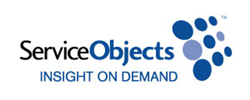 "Delivery services are now on the front lines of this new retail and service environment we operate in. We are proud to offer these providers with proven solutions that enable accurate and on-time delivery." - Geoff Grow, CEO, Service Objects
SANTA BARBARA, Calif. (PRWEB) May 14, 2020
Service Objects, the leading provider of real-time global contact validation solutions, has announced its commitment to support the explosive growth of delivery services in the wake of the COVID-19 pandemic. With consumers heavily relying on these delivery services for critical items such as prescriptions and food, having accurate address and geocoding information is essential to on-time and precise delivery. To facilitate this, Service Objects is offering free trials and implementation support for its DOTS Address Validation - US and DOTS Address Geocode - US services to the delivery providers and the software partners supporting them.
The delivery services market has seen a 38% level of growth over the past two months, from a base of US $35 billion/year in revenues. This rapid growth has exacerbated points of pain such as delivering to inaccurate addresses and inefficient route mapping. These factors result in the top two complaints from consumers: cold and late.
Service Objects' Address Validation and Address Geocode services reduce the volume of cold and late deliveries. Our real-time APIs improve accuracy, route mapping and logistics for delivery providers. The result is improved customer service quality, reduced customer support volume, increased delivery productivity, better tips for drivers and more. These tools can be implemented directly into real-time address capture platforms as well as mapping and route planning software via API interfaces.
"The world as we know it is changing rapidly in the wake of COVID-19 and delivery services are on the front lines of this new retail and service environment," said Geoff Grow, CEO of Service Objects. "We are proud to support the delivery service firms and their software partners with proven solutions that enable accurate and on-time delivery."
Service Objects' solutions are backed by expert implementation assistance, industry-leading 24/7/365 technical support and guaranteed 99.999% uptime. For more details on this offer, please contact us.
About Service Objects
Founded in 2001, Service Objects is the leading provider of contact validation solutions, validating online transactions in real-time, including contact name, address, phone, email, and device. Using Service Objects' global validation and location web services, businesses can identify potentially fraudulent contact records, append additional contact information, and process transactions in a more efficient manner. Service Objects has validated over 4 billion contacts, and major brands such as American Express, LendingTree, and Amazon rely on Service Objects for their data validation needs. For more information about Service Objects' real-time web services, contact sales@serviceobjects.com.