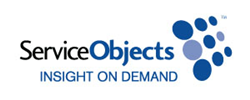 In addition to offering free access to our advanced contact validation and location intelligence APIs, our staff is equipped and ready to work remote to keep the business running smoothly. - Geoff Grow, Chief Executive Officer, Service Objects
SANTA BARBARA, Calif. (PRWEB) March 13, 2020
Service Objects has announced it will offer health and emergency management organizations administering aid to communities impacted by the Coronavirus (COVID-19) with free access to its advanced contact data validation and location intelligence APIs, helping them reduce the spread of the infectious virus.
With COVID-19 being declared a global pandemic and causing major disruptions in lives and businesses around the world, Service Objects is offering qualified organizations up to 100,000 free transactions to use in their global contact validation and location intelligence APIs. Organizations can also securely send a list to be processed.
Service Objects' data quality APIs are powered by the most accurate and up-to-date data sources and are continuously improved by machine learning. Organizations can use Service Objects' data quality platform to respond to this global crisis in the following ways: international geocoding and IP geolocation help map COVID-19 hotspots; international address validation assists in delivering medicine to accurate addresses; reverse phone appending adds mailing addresses to patient lists and phone appending adds phone numbers to patient lists. Service Objects is also HIPPA compliant so medical and health organizations can be sure they are meeting strict privacy guidelines while helping fight COVID-19.
"The fast spread of this global pandemic is having a very real impact on our customers and local community," said Geoff Grow, Chief Executive Officer at Service Objects. "In addition to offering free access to our advanced contact validation and location intelligence APIs, our staff is equipped and ready to work remote to keep the business running smoothly. We do not foresee any impact to the operations of our business. Our entire team is committed to doing our part to lessen the impact of COVID-19."
Qualified organizations who are interested in taking advantage of this offer can contact Service Objects here.
About Service Objects
Founded in 2001, Service Objects is the leading provider of contact validation solutions, validating online transactions in real-time, including contact name, address, phone, email, and device. Using Service Objects' global validation and location web services, businesses can identify potentially fraudulent contact records, append additional contact information, and process transactions in a more efficient manner. Service Objects has validated over 4 billion contacts, and major brands such as American Express, LendingTree, and Amazon rely on Service Objects for their data validation needs. For more information about Service Objects' real-time web services, contact sales@serviceobjects.com.