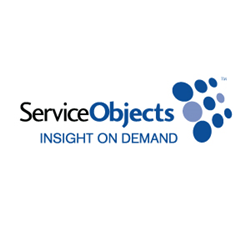 "We stand ready to help our customers process leads and orders, maintain compliance, and protect against fraud during the busiest shopping week of the year." - Geoff Grow, Chief Executive Officer, Service Objects
SANTA BARBARA, Calif. (PRWEB) November 13, 2019
Service Objects, the leading provider of real-time global contact validation solutions, is predicting that it will handle a record number of data validation transactions during the 2019 holiday selling season beginning with Black Friday and Cyber Monday. Overall revenue is expected to surpass the $1 trillion mark for the first time this year.
Despite a shorter selling season in 2019 due to the timing of the Thanksgiving holiday, consumers continue to flock to online shopping channels, with a commensurate increase in digital marketing to attract these consumers. Based on ten years of actual transaction volume trends, Service Objects predicts online transactions to grow by 18.6% on Black Friday and 17.1% on Cyber Monday. This data confirms the trend of consumers wanting to skip the brick-and-mortar experience and shop online on Black Friday.
During this season, ensuring your business is employing data quality best practices is essential to success. Service Objects' DOTS services, including Email Validation, Global Address Validation and Order Validation play a central role in reducing fraud, maintaining high levels of customer satisfaction and ensuring timely and accurate delivery for both packages and emails.
In addition, Service Objects is prepared to fully support customers worldwide for both domestic and international transactions. It will be open for business on Black Friday as well as Cyber Monday and provide industry-leading 24/7 technical support from an experienced team of application engineers.
"This year's holiday season is more critical than ever for retailers, because of both increased online transaction volumes and the need for compliance with new consumer data privacy regulations," notes Geoff Grow, Chief Executive Officer at Service Objects. "We stand ready to help our customers process leads and orders, maintain compliance, and protect against fraud during the busiest shopping week of the year."
Service Objects, which has validated nearly 4 billion transactions to date since its founding in 2001, is helping businesses prepare for the holiday selling season by offering a free API trial key that includes 500 transactions and instant access to 24 global data validation services.
About Service Objects
Founded in 2001, Service Objects is the leading provider of real-time global contact validation solutions, validating online transactions including contact name, address, phone, email, and device. Using Service Objects' global validation and location web services, businesses can identify potentially fraudulent contact records, append additional contact information, and process transactions in a more efficient manner. Service Objects has validated nearly 4 billion contacts, and major brands such as American Express, LendingTree, and Amazon rely on Service Objects for their data validation needs. For more information about Service Objects' real-time web services, contact sales@serviceobjects.com.