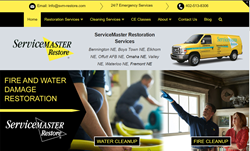 Omaha, NE (PRWEB) July 25, 2017
Proceed Innovative, an internet marketing company that specializes in web design and SEO services, is proud to announce the launch of a brand-new website for ServiceMaster Restoration Services. This disaster restoration and cleaning company has been providing commercial and residential properties in the Omaha, NE area with 24/7 emergency services since 2008, and is excited for the growth of their online presence. The design of their new site is not only friendly across all devices, but has been optimized with custom SEO and marketing strategies to attract local search traffic, overall expanding their digital marketing program.
This new website features a modern look that includes a user-friendly navigation, allowing users to quickly find the information they need as well as conveniently contact the business via a contact form, phone call, or e-mail.
Proceed Innovative also knows that many users are increasingly spending more time on their mobile devices, which is why they have created a formatted version for smaller screens, allowing users to scroll through the website as they would on social media or an app. Overall, this will significantly improve ServiceMaster Restoration Services' SEO program, conveniently providing information to users at any time, from anywhere, and on any device.
About ServiceMaster Restoration Services
ServiceMaster Restoration Services is an established disaster restoration and cleaning company that serves both residential and commercial properties in the Omaha, NE area. The franchise has 2 office locations: one in Omaha, NE and the other in Fremont, NE, allowing them to arrive quickly to the properties of disaster victims. Each technician holds an IICRC certification and has years of experience to provide a wide range of restoration and cleaning services, including water damage restoration,fire damage restoration, mold removal, carpet cleaning, air duct cleaning, and more.
ServiceMaster Restoration Services is also fully committed to returning each home and building to its original condition after experiencing a natural disaster. Some of their large projects have included the restoration work of Westside Schools, the Microtel flood cleanup, and the Oakview mall. Finally, they are proud to be a member of the ServiceMaster nationwide catastrophic response network, a program that assists homes and buildings around the country after experiencing large losses.
About Proceed Innovative
Proceed Innovative is an internet marketing company located in the Chicago suburbs that provides various digital marketing services, including SEO, pay-per-click (PPC), local SEO, web design, and other lead generation services. Their custom SEO and marketing strategies have been proven to increase the overall online presence by building brand awareness, improving website search traffic, and increasing ROI for a variety of businesses. Their web development services include designs that are friendly across all devices and focus on SEO elements to attract and provide customers with a great online experience.
If you are interested in web design or SEO services, contact Proceed Innovative at (800)933-2402 or visit http://www.proceedinnovative.com for more information.