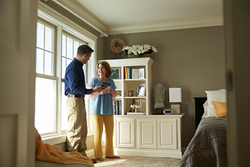 Charlotte, NC (PRWEB) September 23, 2017
ServiceMaster Quality Restoration has been trusted by the home and business owners of Charlotte, NC to provide quality disaster restoration and cleaning services since 2002. RestorationMaster has recently added ServiceMaster Quality Restoration to RestorationMasterFinder.com to boost their online marketing program with two new micro-sites that cover their main service areas. These micro-sites consist of highly optimized service pages that will attract more local search traffic and generate supplemental calls to increase their number of quality sales leads.
The new micro-site for Charlotte, NC includes several service pages such as mold remediation, water damage restoration, fire damage restoration, and construction services, and each of these pages includes contact information to allow web traffic to call them in seconds. The service pages for the Charlotte, NC micro-site appear in the search results when a customer in the area searches for these specific services, increasing the amount of local, relevant search traffic. This increase in traffic and quality sales leads will ultimately improve their conversion rate.
About RestorationMasterFinder.com
RestorationMasterFinder.com, or RMF, is a cost effective, lead generation website that was developed by Proceed Innovative to boost leads for businesses in the disaster restoration, furniture restoration, and cleaning industries. RMF consists of location based, highly optimized micro-sites that appear in local search results to generate supplemental sales leads and improve conversion rates. The micro-sites on RMF are highly on major search engines, such as Google, Yahoo, and Bing, as well as other local, vertical, and social media web portals.
About ServiceMaster Quality Restoration
ServiceMaster Quality Restoration started business in the Charlotte, NC area in 2002 and they have been a reliable provider of disaster restoration services in Union, Mecklenburg, and Cabarrus counties. They grew quickly in their first year of business, winning the ServiceMaster Rookie of the Year Award. Their continued commitment to providing quality work along with outstanding customer service has earned them a ServiceMaster Top 200 Franchise rank each year since they begin business. Each of their technicians holds multiple disaster restoration certifications and they use advanced equipment and techniques to restore homes and businesses after a disaster. Contact ServiceMaster Quality Restoration at (704) 603-6223 to learn more.