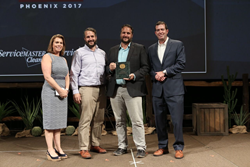 CHICAGO (PRWEB) October 12, 2017
ServiceMaster Kwik Restore has been a trusted provider of disaster restoration and cleaning services in the northwest Chicago suburbs and southeast Wisconsin for almost 40 years. They were recently recognized for their dedication to providing quality results and superior customer service by being named one of the four recipients of ServiceMaster's 2017 Marion E. Wade Expert Award. The owners of ServiceMaster Kwik Restore, Kevin and Nathan Kallas, recently received the award at the ServiceMaster Franchise Services Group Convention in Phoenix, AZ.
The Marion E. Wade Expert Award is the top award given by ServiceMaster to its franchisees. Each year, four franchises in the United States and Canada are chosen by the ServiceMaster corporate office to receive the award. The winners are chosen according to the quality of their work and customer service, their growth as a franchise, and their leadership and involvement in the community. Mary Kay Wegner, the President of the Franchise Services Group at ServiceMaster, presented the Marion E. Wade Expert Award to ServiceMaster Kwik Restore owners Kevin and Nathan Kallas and Vice President of Sales and Marketing Andrew Burdett.
About ServiceMaster Kwik Restore
ServiceMaster Kwik Restore has been providing disaster restoration and cleaning services for homes and businesses in the northwest Chicago suburbs since 1977. They started business in Barrington, IL as ServiceMaster Barrington Lake Zurich and they have since expanded to cover Lake County, McHenry County, and parts of Cook County. Their highly trained technicians can provide effective restoration services following a disaster, as well as quality cleaning services using the best equipment and techniques available. Visit servicemasterkwikrestore.com or call (815) 261-9195 for more information.
About RestoratioMasterFinder.com
RestorationMasterFinder.com, or RMF, is a lead generation website developed by Proceed Innovative to help generate quality leads for businesses in the disaster restoration, furniture restoration, and cleaning industries. RMF consists of highly optimized micro-sites that are geo-based to help attract local search traffic for relevant searches which will increase the number of sales leads and improve conversion rates for included businesses. The micro-sites of RMF are highly visible on major search engines such as Google, Yahoo, and Bing, as well as many local, vertical, and social media web portals. Proceed Innovative also helped design a new SEO optimized website for ServiceMaster Kwik Restore.