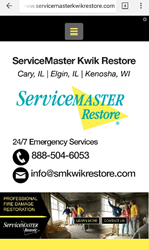 chicago, IL (PRWEB) May 09, 2017
Proceed Innovative, an internet marketing agency that provides SEO web design services, recently built a new website for ServiceMaster Kwik Restore with improved search ability and user friendliness. ServiceMaster Kwik Restore is a trusted provider of disaster restoration and cleaning services that has been serving Kane County in Illinois since 1972 and they just expanded to Milwaukee County in Wisconsin recently. Their new website has a modern, mobile friendly design that was developed with SEO strategies to help boost local search traffic.
The newly designed website for ServiceMaster Kwik Restore has a responsive design and easy to use navigation that is user friendly on desktops and mobile devices. The top navigation menu allows users to quickly jump to specific service pages and each service page has a contact form built into the sidebar for users to enter their information. The responsive web design greatly improves the usability of this website because it displays properly on any type of mobile devices. People are relying more and more on their mobile devices to look for local business information. Having a mobile friendly website with SEO implemented will help improving the online presence and search traffic.
About ServiceMaster Kwik Restore
ServiceMaster Kwik Restore has been a leading provider of disaster restoration and cleaning services in the north Chicago suburbs since 1977. They have merged with several local ServiceMaster businesses over the years to provide services in Lake, McHenry, and parts of Cook counties in Illinois, as well as the southern Wisconsin counties of Racine and Kenosha. Each of their technicians is extensively trained to provide quality disaster restoration services like water damage and fire damage restoration, as well as cleaning services including carpet and upholstery cleaning. ServiceMaster Kwik Restore is dedicated to providing outstanding customer service and has received a ServiceMaster Achiever Award every year since 2002. Contact ServiceMaster Kwik Restore at (888) 504-6053 to learn more or visit servicemasterkwikrestore.com.
About Proceed Innovative
Proceed Innovative is an internet marketing agency based in the Chicago suburbs that provides a range of search engine marketing (SEM) services such as search engine optimization (SEO), web design, pay per click (PPC) management, local SEO, and lead generation. Their SEO experts use proven strategies to help improve online visibility and brand awareness to increase search traffic as well as the ROI of their clients' websites. Their web design services focus on SEO design elements to improve search ability and mobile responsiveness for a better user experience across all devices. Contact Proceed Innovative at (800) 933-2402 or visit proceedinnovative.com to learn more.