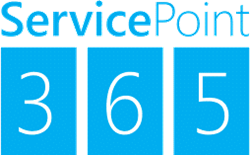 With ServicePoint365 and its associated partner program, resellers can improve consumption and adoption of Office 365 SharePoint Online for their customers plus establish or grow their own SharePoint Online practices
Peachtree Corners, GA (PRWEB) February 29, 2016
ServicePoint365, a leading provider of ISV applications for Microsoft's Office 365 and Azure cloud platform, announced today a new partner program designed to help Office 365 resellers implement ServicePoint365 for their customers. The announcement comes on the heels of ServicePoint365's availability earlier this month through distribution partner Synnex.
ServicePoint365 helps Office 365 customers "light up" SharePoint Online without requiring deep SharePoint skills. The application consists of a number of "Centers" that are configured for Company Intranet, Client/Prospect Management (CRM), Project Management, Proposal Management, Resource Management, Process Management, Knowledge Management and Vendor Management. Resellers or customers simply apply ServicePoint365 to their Office 365 SharePoint Online environment and immediately start managing and collaborating on critical information in a secure, stable and easy-to-use environment.
"We designed our partner program with the education, assistance and internal use rights (IUR) needed to help Microsoft Office 365 resellers quickly get up to speed on how to sell and deliver ServicePoint365 to their customers. With ServicePoint365 and its associated partner program, resellers can improve consumption and adoption of Office 365 SharePoint Online for their customers plus establish or grow their own SharePoint Online practices," said David Huseonica, President at ServicePoint365.
Office 365 resellers interested in the ServicePoint365 partner program can email info(at)servicepoint365(dot)com or call 855-411-4229.
About ServicePoint365
ServicePoint365 is a leading provider of Microsoft Office 365 ISV applications for Office 365, SharePoint Online and Azure. For additional information on ServicePoint365 or to become a partner, contact ServicePoint365, LLC at info(at)servicepoint365(dot)com, or visit http://www.servicepoint365.com. All product and company names herein may be trademarks of their registered owners.