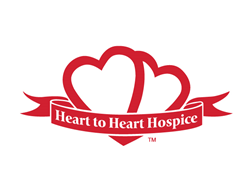 "We are very passionate about serving our veterans."
PLANO, Texas (PRWEB) November 11, 2020
As a nation, Nov. 11 is a day to come together in unity and pay respect to those who have served America in the Armed Forces.
In anticipation and recognition of Veterans Day, Heart to Heart Hospice in Southwest Indiana partnered with two community organizations to sponsor events designed to honor veterans and provide support:

Along with the non-profit Indiana Rolling Thunder, Heart to Heart conducted a Feed the Veteran Event, passing out food boxes to 1,500 veterans in the Southern Indiana area.
Joining with the Southwestern Indiana Regional Council on Aging, Heart to Heart had a drive-through veterans' celebration, providing approximately 100 local veterans with a boxed lunch and a bag of COVID-related supplies, such as hand sanitizer, masks, and wipes.
In addition, Heart to Heart staff members in Southwest Indiana also lead Vet to Vet Cafes in several local skilled nursing facilities. The concept helps connect veterans living in the communities with each other and facilitates communication about shared experiences and emotions.
"We are very passionate about serving our veterans and we ensure that our team members understand the specific issues veterans may face during the end-of-life process," notes Jacquelyn Fehd, Executive Director of Heart to Heart Hospice of Southwest Indiana.
The commitment to veterans extends company-wide throughout the year, with all 43 Heart to Heart locations working to assist veterans by participating in educational and volunteer programs, providing assistance with veterans benefits, and conducting recognition and pinning ceremonies, all following the current COVID-related CDC guidelines. At some level, all sites are involved in the national We Honor Veterans program, which helps hospice and other healthcare providers across America meet the unique needs of seriously ill veterans and their families.
"Acknowledging and validating their service and sacrifice is an important part of compassionately caring for our nation's veterans," said Kelly Mitchell, Chief Executive Officer of Heart to Heart Hospice. "We are privileged to serve those who served our country by addressing their unique needs and providing individualized support."
About Heart to Heart Hospice
Heart to Heart Hospice, founded in 2003, is one of the largest private providers of hospice care in the United States. Headquartered in the Dallas-Fort Worth Metroplex, Heart to Heart provides a broad range of hospice services to patients with life-limiting illnesses across 43 locations in Texas, Michigan and Indiana. At Heart to Heart, we understand both the physical and emotional challenges for our patients and their loved ones and our care team is committed to providing them with what they need most: comfort, support, and dignity. Learn more about Heart to Heart Hospice.
###