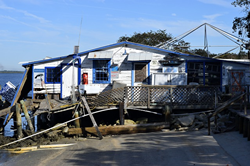 PASO ROBLES, Calif. (PRWEB) December 13, 2018
Professional Paso Robles water damage experts, SERVPRO, have released a report detailing the four most common causes of water damage in the home and how to prevent the damage. Water damage can have a serious effect on a house and the family budget ranging from expensive repair bills, temporary to the potential loss of the property.
The most common causes and tips for preventing these causes are outlined below.

Bursting or leaking pipes is one of the most common causes of home flooding and can lead to excessive water damage. Drains which become backed up with debris can block and cause pressure in the pipe, leading to a burst or leak. Incorrectly operating garbage disposals are another culprit of bursting pipes. Additionally, roots growing in the yard can move into sewer lines causing issues with piping and plumbing.
Tip: The Paso Robles water damage experts encourage regular maintenance of garbage disposal units and avoid putting excessive amounts of food or waste down the drain.
Issues with plumbing, especially leaking hoses and pipes, or joints not fully attached to plumbing fixtures can cause flooding in the home. Flooding can happen rapidly in a situation like this, leading to water damage and potential mold in the affected area.
Tip: Periodically check under bathroom and kitchen sinks for worn out hoses and pipe joints.
Moisture buildup in areas such as crawl spaces, attics and basements can be susceptible to water damage when water in these spaces goes unnoticed. Moisture can leak through concrete foundation causing water and mold damage to lower levels of the home. Damp air in attics or crawl spaces can also allow moisture build-up that leads to rotting and mold.
Tip: Periodically check for air leaks or moisture build-up in these areas.
Malfunctioning and aging household appliances are commonly overlooked, say the Paso Robles water damage experts. Older pipes and hoses can become weakened and susceptible to leaking or bursting. Household appliances that can potentially cause the most water damage include washing machines, water heaters, refrigerators and dishwashers.
Tip: Ensure regular maintenance of household appliances and replace any old or worn out hosing and tubing.
Following these suggestions can save homeowners time, money and stress. The professionals at SERVPRO are available 24/7 to lend a helping hand.
SERVPRO in Paso Robles
1702 Westfield Rd., Paso Robles, CA 93446
(805) 239-0466
This press release is by Paso Robles SEO company, Access Publishing, Access Publishing, 806 9th Street, #2D, Paso Robles, CA 93446, (805) 226-9890.