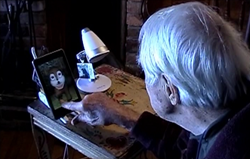 I am extremely pleased to be able to provide clients of Sesen Elder Care with improved care, peace of mind, and overall cost-saving through the GeriJoy Companion.
San Francisco, CA (PRWEB) August 31, 2014
GeriJoy was founded by MIT researchers to improve quality of life for seniors and caregivers through friendly technology. The GeriJoy Companion, their flagship service, is a tablet-based virtual pet and companion for the elderly that is available 24/7 and is supported by GeriJoy's worldwide team of remote caregivers who are specially trained in dementia care. GeriJoy's remote caregivers guide the pet's speech to provide seniors with the experience of having an always-available companion that can talk with them about family photos, life stories, news events and more. Because GeriJoy's remote caregivers can actually see and hear through the pet's tablet device, and because they log the interactions they have with older adults, GeriJoy's service provides outstanding supervisory, health coaching and family support benefits.
"Technology is the path that will lead to the greatest improvement of care and reduction in cost for the family," says Jim Wambach, Managing Partner of Sesen Elder Care, a leading provider of in-home elder care and care education services based in San Mateo, CA.
"I have experienced how the GeriJoy Companion eases anxiety about a parent living alone, because GeriJoy's remote caregivers are able to immediately provide alerts if anything requires special attention during the day or goes wrong overnight," he added, "and how care is improved by having a GeriJoy Companion serve as an anchor point for the family and others involved with the care of the older adult," referring to the GeriJoy's Companion's 24x7 availability, and its ability to provide a care team with ongoing logs about the senior's interactions with the Companion in the home.
According to Wambach, the GeriJoy Companion is a great complement to traditional care services. It is a highly cost-effective way to start providing care and supervision for an older loved one, enabling families to substantially reduce the amount of expensive hourly care now required by other home care agencies.
Jim Wambach had been working in the software tech business as an executive for decades, until a personal experience as a long-distance caregiver to his own mother inspired him to immerse himself in the elder care industry, to really understand the core needs of families. Completely distinguished from other homecare agencies, Jim's company, Sesen Elder Care, makes decisions around care with the goal of improving care AND reducing customers' costs. "I am extremely pleased to be able to provide clients of Sesen Elder Care with improved care, peace of mind, and overall cost-saving through the GeriJoy Companion", Jim states.
Wambach is available for press, radio or TV interviews to discuss and to demonstrate this unique technology-enabled, people-driven service. Wambach can be contacted by email at care(at)seseneldercare(dot)com or by calling 650-425-6035.
About GeriJoy
GeriJoy makes dementia care cost-effective and joyful. GeriJoy's specially-trained remote caregivers offer 24x7 companionship, supervision, and clinical support for older adults through tablet-based avatars, improving care, increasing peace of mind, and lowering overall cost of care. The avatars appear as adorable talking pets, allowing GeriJoy to build joyful friendships with people who are otherwise difficult to engage due to cognitive, memory, or behavioral issues. The startup has won numerous accolades from organizations like AARP, TEDMED, and the US Senate, and is currently being deployed at leading care providers across the US. See GeriJoy in action at http://gerijoy.com/video#CustomerStories.
About Sesen Elder Care
Sesen Elder Care is an in-home elder care services provider based in San Mateo, CA, founded by Jim Wambach. The Sesen team consists of highly qualified and experienced people committed to making a difference in the lives of seniors and their families. Sesen advocates for the comprehensive coordination of care and partners with families and elder care professionals to establish a well-coordinated "team of care providers" for the benefit of seniors and families. To learn more, visit http://SesenElderCare.com.