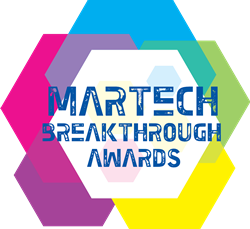 "This award is indicative of the exceptional work of our employees who are committed to providing the best personalized customer engagement platform in the industry." - Lars Albright, CEO, SessionM
LOS ANGELES (PRWEB) August 07, 2019
SessionM, the leading customer engagement and loyalty platform, today announced that CEO Lars Albright has been named Best MarTech CEO in MarTech Breakthrough's prestigious 2019 MarTech Breakthrough Awards program.
The MarTech Breakthrough Awards honors excellence and recognizes the innovation, hard work and success in a range of marketing, sales and advertising technology related categories, including marketing automation, market research and customer experience, AdTech, SalesTech, marketing analytics, content and social marketing, mobile marketing and many more. This year's program attracted more than 2,500 nominations from over 15 different countries throughout the world.
Albright founded SessionM in 2011 and quickly elevated the company to the market leader for customer loyalty and engagement. Albright and the SessionM team work with the world's largest and most innovative brands, including Chipotle, Coca Cola, Huggies, Air Canada, L'Oréal and more to help them build stronger customer relationships through smarter, impactful interactions.
"I am honored to be recognized by MarTech Breakthrough," said Albright. "This award is indicative of the exceptional work of our employees who are committed to providing the best personalized customer engagement platform in the industry. I am proud of the SessionM team and the work they continue to accomplish for our customers."
Since founding SessionM, Albright has remained steadfast in building the most collaborative, product and innovative company in the industry. His determination for success was evident when he co-founded Quattro Wireless, a leading mobile advertising platform, which became a market leader under Albright's leadership and was acquired by Apple in 2010. After its acquisition, Albright stayed on board at Apple, where he was a member of the executive team iAd, Apple's mobile advertising business unit.
"Lars' entrepreneurial spirit goes beyond just building SessionM. Lars actively works closely with a range of venture funds and early stage start-ups, along with non-profits including BUILD Boston, an organization that ignites potential of youth in under-resourced communities and equips them for high school, college and career success," adds James Johnson, Managing Director at MarTech Breakthrough. "Lars embodies the spirit of innovation that our MarTech Breakthrough Awards program seeks to highlight, and we are pleased to name Mr. Albright the "Best MarTech CEO" for our 2019 awards program."
About MarTech Breakthrough
Part of Tech Breakthrough, a leading market intelligence and recognition platform for global technology innovation and leadership, the MarTech Breakthrough Awards program is devoted to honoring excellence in marketing, ad and sales technology companies, products and people. The MarTech Breakthrough Awards provide a platform for public recognition around the achievements of breakthrough marketing technology companies and products in categories including marketing automation, AdTech, SalesTech, marketing analytics, CRM, content and social marketing, website, SEM, mobile marketing and more. For more information, visit MarTechBreakthrough.com.
About SessionM
SessionM is a customer engagement and loyalty platform empowering the world's most innovative brands to forge stronger and more profitable customer relationships. The platform scales for the enterprise, globally. SessionM is headquartered in Boston with offices around the globe. For more information on SessionM, visit http://www.sessionm.com.