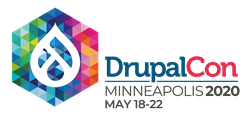 DrupalCon is a gathering of 3000 of the top minds in Open Source technology.
MINNEAPOLIS (PRWEB) March 04, 2020
The Drupal Association, an international nonprofit organization, announces a rigorous DrupalCon Minneapolis lineup of sessions, all of which will be presented at DrupalCon Minneapolis on May 20-21. DrupalCon is a gathering of 3000 of the top minds in Open Source technology. The recurring event features dozens of curated sessions and panels from some of the most influential people and contributors within the Drupal community and beyond, as well as countless opportunities for networking, contributing to Drupal itself, informal conversations, introductions and more.
A volunteer program committee of open source experts reviewed nearly 750 proposals and vetted them to select current, informative and insightful offerings. Curated content for the 45-minute sessions is packed with compelling opportunities to learn the latest in Drupal. The timely topics range from DevOps to digital marketing to accessibility to Drupal 9—and more.
Session titles include: "How my disabilities made me a better developer," "The battle for online privacy," "Designing for an aging population," and "Extending commerce: Drupal's architecture in action." Expert speakers and panelists are from varied organizations, places and backgrounds.
All sessions will be during the annual DrupalCon North America conference on Wednesday, May 20 and Thursday, May 21 at the Minneapolis Convention Center. Summits, Trainings, a Contribution Day, and social events round out the overall DrupalCon schedule for the week of May 18-22.
Specific Session Tracks include:

Being human, contributions & community - All about tech interaction, participation
Content & digital marketing - Content management, strategy, logistics
Development & coding - Includes front-end, back-end, migration
DevOps & infrastructure - Hosting, deployments, networking, hardware, stack
Leadership, management & business - Project management, leadership, sales strategy
Site building - Aspects of using Drupal's administrative interface
User experience, accessibility & design - Designing for usability, inclusion, universal access
What's next - Initiatives, innovation, bold ideas, tech's future
Only those who are registered can attend the sessions on Wednesday, May 20 and Thursday, May 21—and all skill levels are welcome—so register now! Rates will increase on March 31, 2020.
Curious about the speakers presenting sessions? See them all here: https://events.drupal.org/minneapolis2020/sessions/accepted
For more information and to register, visit https://events.drupal.org/minneapolis2020/registration/ticket-info
About Drupal
Drupal is one of the leading content management software platforms used to create millions of websites around the world. There are 46,000+ developers and 1.3 million users on Drupal.org, and Drupal has the largest open source community of members in the world. Drupal has exceptional standard features, easy content authoring, reliable performance and unrivaled security. What sets it apart is its flexibility; modularity is one of its core principles. Its tools help you build the versatile, structured content that ambitious web experiences need.
About the Drupal Association
The Drupal Association is an international non-profit organization that engages a broad audience about Drupal, the leading CMS open source project. The Association promotes Drupal adoption through the work and initiatives of a worldwide community of dedicated contributors, and support from individual and organizational members. The Drupal Association helps the Drupal community with funding, infrastructure, education, promotion, distribution and online collaboration.
For more information, visit https://www.drupal.org.
###