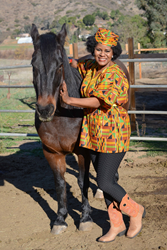 "Setche's "Black Country Girl" is a moving and powerful claiming of country identity filled with personal backstory, sharp storytelling and humor. It's one of the most fresh and compelling debut country singles I've heard in years." -- Jonathan Bernstein, Rolling Stone
SAN DIEGO (PRWEB) February 11, 2021
Female singer Setche is elated to launch the music video for her debut country song, "Black Country Girl" on Sunday, February 14th, 2021, in the HEART of Black History Month." With the United States divided and hurting, Setche believes her song and video will help people find the humanity in each other -- despite our differences. The song is catchy and heart-warming, and the stories behind the song and video can spark critical conversations that help people see the world through others' perspectives.
In the video, Setche embraces African and Country Western cultures while grappling with some uncomfortable reality. Black Country Girl inspires authenticity - embracing all of who we are, expressing our authentic selves, and finding our internal purpose, no matter what boxes we are expected to stay within.
She is releasing it on Valentines Day, in the HEART of Black History Month, as a reminder and celebration of all the unsung Black cowgirls, cowboys and contributors in shaping country music and culture - a recognition and embrace of the diversity of country western history.
Setche draws her inspiration from several country singers including Rissi Palmer, Jo Dee Messina, Darius Rucker, Alan Jackson, and Dolly Parton.
Artist Bio:
Setche, an immigrant to the USA from Cameroon, is an engineer, singer, and inclusion, diversity, & equity professional; building bridges that transform hearts, minds, systems, and behaviors. She has performed for religious, political, and community leaders and activists from around the world at various venues including the annual Human Rights Summit at the United Nations Headquarters in New York City, the International Leadership Conference in Seoul, South Korea, and the African Leadership Summit in Cape Town, South Africa (organized by the Royal House of Mandela). She has written and produced inspiring songs and community-building music videos like Children of The World and Batuo (Welcome). She wrote Black Country Girl in 2013 while living in Corinth, Mississippi, where she worked as an engineer for Caterpillar, Inc. She currently resides in San Diego, CA.
Endorsements:
"Setche's "Black Country Girl" is a moving and powerful claiming of country identity filled with personal backstory, sharp storytelling and humor. It's one of the most fresh and compelling debut country singles I've heard in years." --- Jonathan Bernstein, Rolling Stone
"In Setche's music, I hear the joyous declaration of authenticity. Hers is a rallying cry to be yourself and break the bounds of social conformity. Country music is an overwhelmingly white enclave, but songs like "Black Country Girl'' open doors to new ways of thinking across the racial divide. It is so catchy that I want to dance and smile. Bravo!" --- Martin Eder, General Manager of KNSJ FM Radio
"I don't like country music at all but I can't get enough of this song. Because of it, I've found myself finally getting into country music." --- Stephanie Osuocha, Navy veteran and scientist, San Diego
"I more than love the song! I'm still amazed that it got this 85-year old white cowboy dancing on his feet. I just couldn't resist. Thank you for making my new year so special already!" --- Lee Smith, veteran and Riverside resident