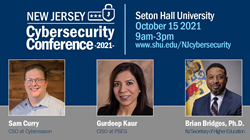 "We are witnessing an explosion of highly-paid jobs and new career paths in cybersecurity. Average salaries begin at more than $72,000 and can exceed $200,000 in this often overlooked industry," said Susan Scherreik, Director of the Center of Innovation and Entrepreneurship.
SOUTH ORANGE, N.J. (PRWEB) October 11, 2021
For every college student who dreams of a career in cybersecurity, Seton Hall University is proud to announce New Jersey Cybersecurity 2021: Connect-Collaborate-Careers. The second annual cybersecurity conference will connect students and university faculty and administrators with cybersecurity business leaders. Registration is now open for the free virtual conference, scheduled for October 15, from 9 a.m. to 3 p.m. ET. 
 
Celebrating National Cybersecurity Awareness Month, the event is sponsored by Seton Hall, PSEG, the New Jersey Economic Development Authority, UPITCHNJ, a statewide collegiate entrepreneurship organization; and Edge, the region's nonprofit technology partner. 
 
This conference is designed to raise awareness of cybersecurity career opportunities for higher education students and new college graduates and convey the appeal of cybersecurity careers to students. Business leaders and university experts will speak about resources available to students who want to prepare for a cybersecurity career, and business leaders will discuss the qualities they seek in job candidates. Open to higher education communities and cybersecurity industries in New Jersey and throughout the nation, the conference is free, but registration is required.  For more information on the conference, speakers, and to see a detailed agenda, preview the conference website.
 
The FBI's Internet Crime Complaint Center (IC3) reported 467,361 complaints in 2019 and more than $3.5 billion in losses to individual and business victims. Phishing and similar ploys, non-payment/non-delivery scams, and extortion were among the most frequently reported complaints. In the global response to the Covid-19 pandemic, the world has increasingly conducted business, shopping, education, and other communications virtually. Cybersecurity professionals are on the front lines to keep everything from bank accounts to top military secrets safe. 
 
"We are witnessing an explosion of highly-paid jobs and new career paths in cybersecurity. Average salaries begin at more than $72,000 and can exceed $200,000 in this often overlooked industry," said Susan Scherreik, Director of the Center of Innovation and Entrepreneurship at the Stillman School of Business at Seton Hall. "There are not enough candidates to fill this growing field with jobs available to students in a wide range of academic disciplines. In New Jersey alone, there are more than 11,000 cybersecurity positions available and more than 450,000 open nationwide."
 
Event organizer and workshop moderator Dr. Manfred Minimair, Ph.D., Department of Mathematics and Computer Science, directs Seton Hall's academic cybersecurity efforts and encourages students and recent graduates to attend. "This field is interdisciplinary and comprehensive. Many industries are looking for young talent to get into cybersecurity and we'll provide valuable networking opportunities to connect them with interested students. Students will learn about different approaches into cybersecurity including academic research opportunities, internships, educational initiatives and many career choices including computer science and information systems, business and management, diplomacy, finance, government, human psychology, law and modern languages. We'll also be discussing diversity inclusion and equity and the importance of attracting more women and minorities into this career path," Minimair said.
 
Conference highlights include a keynote address by Gurdeep Kaur, Chief Information Security Officer, PSEG. In her role, Kaur is responsible for managing enterprise technology risk and compliance with the cyber requirements of applicable laws and regulations. She is an accomplished information security professional with over 20 years of core experience in Enterprise IT Security Management. Previously, she was the Director of Information Security at Horizon Blue Cross Blue Shield of New Jersey. Prior to that, she was the Chief Security Architect for AIG.
 
Kaur noted that the conference provides a forum to raise student awareness about the array of well-paying entry-level cybersecurity jobs, which are interesting, challenging and vitally important to our national security. "Cybersecurity is a profession with purpose, impact and coolness factor, and money as well," she said.
 
Through the Whova event and conference app, attendees can virtually register and participate in four workshops featuring more than 20 cybersecurity experts from industry, government and academia, including: 
 

Training the Next Generation of Cybersecurity Researchers
The Cybersecurity Job Market: Cybersecurity Employers Speak About the Array of Jobs Available and the Qualities They Seek in New Hires  
Keeping New Jersey Safe from Cybersecurity Threats
Diversity Employment in Cybersecurity: Opportunities for Women and Minorities
 
"The NJEDA is very pleased to be a supporting partner in this innovative conference. The New Jersey Cybersecurity sector is developing rapidly as we transition to remote channels of working in our COVID 19 environment. This conference will accelerate the connection between students interested in gaining Cybersecurity knowledge and skills and private sector companies that have significant employment opportunities within this emerging and critically important ecosystem," said Bill Penders, New Jersey Economic Development Authority senior advisor.
 
Conference speakers include Michael Geraghty, the State of New Jersey's Chief Information Security Officer  and Director of the NJ Cybersecurity and Communications Integration Cell (NJCCIC). In these roles, Director Geraghty is responsible for the development and execution of the State's cybersecurity strategy. The conference also features cybersecurity experts from: Seton Hall University, Rutgers University, Stevens Institute of Technology, St. Peter's University, the Federal Bureau of Investigation, New Jersey Economic Development Authority, Edge, Cybereason, SHI International and iQ4.
 
A key feature of the program is a question and answer networking session, "Day in a Life," providing guidance to students who want to enter this field. Students will be able to question recent graduates working in cybersecurity about their positions, their companies, and how they got their start in cybersecurity. 
 
New this year, the conference will include three afternoon workshops that will teach students widely used skills and technology for various background levels (introductory Python coding, application of Splunk software suite, and computational privacy).
 
Click here for more information and to register. And be sure to join the conversation: #NJcybersecurity2021
ABOUT SETON HALL UNIVERSITY
One of the country's leading Catholic universities, Seton Hall has been showing the world what great minds can do since 1856. Home to nearly 10,000 undergraduate and graduate students and offering more than 90 rigorous academic programs, Seton Hall's academic excellence has been singled out for distinction by The Princeton Review, U.S. News & World Report and Bloomberg Businessweek.
Seton Hall embraces students of all religions and prepares them to be exemplary servant leaders and global citizens. In recent years, the University has achieved extraordinary success. Since 2009, it has seen record-breaking undergraduate enrollment growth and an impressive 110-point increase in the average SAT scores of incoming freshmen. In the past decade, Seton Hall students and alumni have received more than 30 Fulbright Scholarships as well as other prestigious academic honors, including Boren Awards, Pickering Fellowships, Udall Scholarships and a Rhodes Scholarship. The University is also proud to be among the most diverse national Catholic universities in the country.
In recent years, the University has invested more than $165 million in new campus buildings and renovations. The University's beautiful main campus in suburban South Orange, N.J. is only 14 miles from New York City — offering students a wealth of employment, internship, cultural and entertainment opportunities. Seton Hall's nationally recognized School of Law is located prominently in downtown Newark. The University's Interprofessional Health Sciences (IHS) campus in Clifton and Nutley, N.J. opened in the summer of 2018. The IHS campus houses Seton Hall's College of Nursing, its School of Health and Medical Sciences as well as Hackensack Meridian Health's Hackensack Meridian School of Medicine.
For more information, visit http://www.shu.edu.