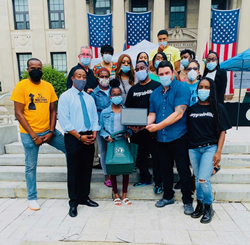 "This partnership between community leaders, entrepreneurs, activists of color and a university is a model that is innovative, current and absolutely necessary."
SOUTH ORANGE, N.J. (PRWEB) July 31, 2020
Seton Hall University is working with the City of East Orange and the Mayor's Office of Employment and Training on the city's new Virtual Summer Work Experience Program, which runs between July 13 and Aug. 21.
The virtual work experience program is being offered through VIP Online Academy, which was started in response to COVID-19 by author and entrepreneur Jamila Davis in partnership with civil rights activist Tamika Mallory and Love and Hip Hop's Yandy Smith. The East Orange, New Jersey program is under the direction of Mayor Ted Green and Professor Juan Rios, director of the Department of Social Work at Seton Hall University.
The program was made available to 300 East Orange residents between the ages of 14 and 20 and participants are paid $10 per hour for a 20-hour week Monday through Thursday. Capacity for the program was reached quickly.
Professor Rios spearheaded the initiative at Seton Hall, identifying faculty presenters, assessing presentation themes from faculty and also presenting in weekly workshops within the cohort.
In addition to workshops on the cultivation of mental well being and the benefits of higher education and job opportunities within the academic world, the presentations often highlight the narratives of faculty members of color at Seton Hall who have "beaten the odds" to take their place in the academic world. As Seton Hall is home to the Leadership program named #1 in the nation by HR.com for five years in a row, faculty workshops have also included effective leadership training.
Professor Rios has also developed the means to track and gauge the success of the program, measuring self-efficacy through a pre/post-test assessment model to provide data points on the outcome variables, thereby allowing for success-based adjustments in programming for subsequent iterations in East Orange and other cities.
"This is an extraordinary opportunity for us to reach into the community and begin to make a real difference in the lives of our youth," said Rios. "This isn't about preparing students to achieve only in the future, but now – with real marketable skills and the wherewithal for them to flourish personally, within the community and in the economy at large. This partnership between community leaders, entrepreneurs, activists of color and a university is a model that is innovative, current and absolutely necessary."
Regular program participants and mentors from Seton Hall also include Majid Whitney, associate dean and director of Seton Hall's Educational Opportunity Fund and Freshman Adviser and ROTC Military Science Instructor Julius Moore, who retired from the U.S Army at the rank of Sergeant First Class after 24 years of service which included three combat tours in Iraq and Afghanistan.
Six Modules for Students to Choose From
The virtual Summer Work Experience program offers six modules: OSHA 30 for construction and labor; Media/Podcast; Music Development; Personal Care for hair, makeup, etc.; Web/Graphic Design; and Wellness/Physical Fitness. Students choose one module and receive certification in that area upon completion of the six-week program. A small number of interested applicants have also received traditional on-site employment with the city's Department of Public Works and the East Orange Water Department.
"I cannot tell you how excited I am to be able to provide our students with a relevant job training experience that can translate into income long after this summer program ends," Mayor Green said. "We've had to shut down and cancel so much over the past few months, but there was no way we were going to allow COVID-19 to stop us from giving our young people a chance to learn and earn this summer." He continued, "As successful as this program has been so far, we're looking for meaningful ways in which to expand this partnership with Seton Hall, VIP and some of the many business leaders that have expressed an interest in doing more to bring marketable skills and employment to our youth."
The online program, which emphasizes personal accountability, entrepreneurship and job training as well as academics, was started by Jamila Davis as a supportive resource to incentivize students to do well in school, discover viable career opportunities and learn to avoid poor choices. VIP Online Academy is the COVID inspired virtual follow up to Davis' work over the last three years with Yandy Smith and Tamika Mallory conducting community engagement services, providing workshops in schools, communities and cities throughout the country that teach students various specialized skills sets to help them to be successful and o make sound decisions.
"Partnering with Seton Hall and the City of East Orange will allow us to empower our students to choose the right road, right now," said Davis. "And now is the time. It costs more than $60,000 per year to incarcerate someone in New Jersey, and even more in New York – as a society, we simply can't afford to lose another generation to the streets. How much better would it be to help create a generation of business owners, entrepreneurs and employees?"
Those who would like more information or would like to talk about additional partnership opportunities are encouraged to contact the VIP Online Academy directly, which functions under the auspices of the nonprofit, Partners Uplifting Our Daughter & Sons, at info@viponlineacademy.com; or the City of East Orange at 973-677-8914 or eastorangeswep.org.
An online version of this release may be found at https://www.shu.edu/arts-sciences/news/seton-hall-works-with-east-orange-on-youth-program.cfm
# # #
ABOUT SETON HALL UNIVERSITY
One of the country's leading Catholic universities, Seton Hall has been showing the world what great minds can do since 1856. Home to nearly 10,000 undergraduate and graduate students and offering more than 90 rigorous academic programs, Seton Hall's academic excellence has been singled out for distinction by The Princeton Review, U.S. News & World Report and Bloomberg Businessweek.
Seton Hall embraces students of all religions and prepares them to be exemplary servant leaders and global citizens. In recent years, the University has achieved extraordinary success. Since 2009, it has seen record-breaking undergraduate enrollment growth and an impressive 110-point increase in the average SAT scores of incoming freshmen. In the past decade, Seton Hall students and alumni have received more than 30 Fulbright Scholarships as well as other prestigious academic honors, including Boren Awards, Pickering Fellowships, Udall Scholarships and a Rhodes Scholarship. The University is also proud to be among the most diverse national Catholic universities in the country.
During the past five years, the University has invested more than $165 million in new campus buildings and renovations. And in 2015, Seton Hall launched a School of Medicine as well as a College of Communication and the Arts. The University's beautiful main campus in suburban South Orange, N.J. is only 14 miles from New York City — offering students a wealth of employment, internship, cultural and entertainment opportunities. Seton Hall's nationally recognized School of Law is located prominently in downtown Newark. The University's Interprofessional Health Sciences (IHS) campus in Clifton and Nutley, N.J. opened in the summer of 2018. The IHS campus houses the University's College of Nursing, School of Health and Medical Sciences and the Hackensack Meridian School of Medicine at Seton Hall University.
For more information, visit http://www.shu.edu.