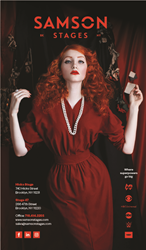 "Such Beautiful Support space for talent and crew really doesn't exist anywhere else in NYC"
BROOKLYN, N.Y. (PRWEB) October 13, 2020
Samson Stages, the Premiere soundstage with cutting edge COVID protocols opened their doors near Industry City and Red Hook earlier this year.
If you haven't heard of Samson Stages, you likely will. On July 13, 2020, Sam Geiger & Rich Barbadillo opened Hicks stage in Redhook and Stage 47 in Sunset Park near industry city. Immediately the bookings began rolling in from production companies like DBOX, Escape Velocity with Ryan Reynolds and Rick Moranis, LG, & PEPSI.
With over 17,000 square feet of full-service sound stages, studios, on-site G&E rentals, and a myriad of additional modern amenities, Samson Stages has everything needed for film, television shows, commercial, music videos, or production. Samson Stages space is decked out with beautiful, spacious makeup rooms, dressing rooms, green rooms, catering areas, and kitchen areas where talent and crew can chill during downtime. Another great feature is the separate prop construction and art department areas that are made available for the use of clients needs and execution of their vision.
"Such Beautiful Support space for talent and crew really doesn't exist anywhere else in NYC." - Aliza Magid
Another interesting part of the studio is the 2,500-AMP 3 phase power, more than sufficient for any large-scale production, and super-accessible so gaffers can do their job efficiently. Installed on site are two 600-AMP camlock boxes on either side of the stage, eliminating the need to run wires across the space. Working during the summer or even under the hot lights was well thought out, as Samson Stages had a 50 ton silent HVAC unit installed, keeping any cast and crew comfortable on Samson's unique Hicks 60x60 cyclorama stage. With 19 feet to their cross space grid, the high ceiling allows for elaborate set construction as well.
The Covid-19 pandemic had grinded all productions to a halt, however, Samson Stages has taken every precaution to make sure that anyone who walks thru their doors to remain as safe as possible, as they have recently installed an IWave filtering air system which effectively decontaminates any air droplets in the studios. Fully stocked PPE materials and 7000 square feet of column-free room are at the ready, leaving plenty of space to distance, as well as protect yourself. Samson Stages have also invested in a commercial-grade disinfectant spray used on all surfaces and equipment, hands free washing stations, & touchless hand sanitizer dispensers throughout the space.
"Samson Stages COVID safety measures are really at the highest standard." - HSS/Pink Set Medic Sevens
Samson Stages spacious stages aren't just for production. Samson Stages are also able to handle conferences, large parties or corporate events as well. No matter the need, Samson Stages stands ready in these turbulent times, to not only keep the production world rolling, but bring a sense of calm and security in this ever changing world.
For more information, please contact:
Sam Geiger
Samson Stages
Office: 718-414-2255
Email: Sales@samsonstages.com
https://samsonstages.com/