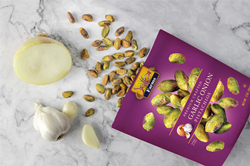 "We are very excited that our Garlic Onion Seasoned Pistachio Kernels have won two prestigious food awards back to back," said Setton Farms COO Mia Cohen. "It feels great to know that the public loves this healthy and delicious on-the-go snack as much as we do."
TERRA BELLA, Calif. (PRWEB) November 12, 2019
Setton Pistachio of Terra Bella, Inc., the nation's second largest pistachio grower and processor based in California's Central Valley, has won Kosherfest's Best New Product Award for its premium crafted Garlic Onion Seasoned Pistachio Kernels in the savory snacks, chips, and crackers category. A second win for this product, the Garlic Onion variety was awarded first place for the 2019 California Food Expo Buyer's Choice Awards in September.
Kosherfest is the world's largest and most attended Kosher-certified products trade show. From chain supermarkets to corner groceries, restaurants to caterers, over 6,000 industry professionals attend the annual show at the Meadowlands Expo Center in New Jersey. The show is open Tuesday, November 12th and Wednesday November 13th. Visit Setton Farms at booth number 6060.
"We are very excited that our Garlic Onion Seasoned Pistachio Kernels have won two prestigious food awards back to back," said Setton Farms COO Mia Cohen. "It feels great to know that the public loves this healthy and delicious on-the-go snack as much as we do."
With no artificial colors, flavors, or preservatives, Setton Farms Seasoned Pistachio Kernels are a unique source of plant-based protein and make a great addition to any recipe. Consumers looking for a unique and nutritious snack can enjoy five varieties: Garlic Onion, Salt & Pepper, Chipotle BBQ, Jalapeño, and Chili Limón. Each resealable bag is packed with three ounces of premium quality shelled pistachios that make the perfect nutrient-dense snack.
Setton Farms Seasoned Pistachio Kernels are sold in stores nationwide, including Kroger, Meijer, Wegmans, Jewel, Lunds & Byerlys, Woodmans, Shoprite, Winco, Bed Bath & Beyond, Albertson/Shaws, At Home, Hudson News, and online at Amazon.com.
Grown in California's Central Valley, Setton Farms' pistachios are vegan, Non-GMO Project Verified, Certified Gluten Free, and Kosher. All of Setton Farms' pistachios are grown, processed, and packaged using renewable energy and eco-friendly practices.
The Setton family is dedicated to providing healthy and delicious pistachio snack options that consumers of all ages love. In addition to their line of Seasoned Pistachio Kernels, Setton Farms produces Pistachio Chewy Bites, Dark Chocolate Covered Pistachios, Premium Nut Blends, and other nutritious, pistachio-based snacks.
For more information on Setton Farms, visit http://www.settonfarms.com or follow on social media at: Instagram @setton_farms, Facebook @settonfarmspistachiochewybites and Twitter @settonfarms
About Setton Pistachio of Terra Bella, Inc.
Since 1986, the Setton family has taken a hands-on approach to growing and processing America's Best Tasting Pistachios in the Central Valley of California. As the second largest pistachio processor in the United States, Setton Pistachio of Terra Bella, Inc. provides pistachios to more than 60 foreign markets. Using proprietary techniques, the Setton Farms brand offers the highest quality pistachios with a fresh-from-the-orchard taste.