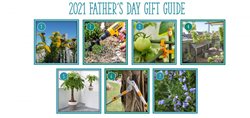 Whether your Father's Day gift recipient is a Super-Dad or tinker-toy kind of guy (or maybe both), get him a gift that will make others green with envy.
KENNETT SQUARE, Pa. (PRWEB) June 10, 2021
This Father's Day, why not focus on getting your dad, husband, father-in-law, or that special guy in your life something that's green and good for him that will keep on giving for years to come!
Gardening is proven to reduce stress and improve one's mood. Who doesn't need a little bit of joyful stress relief these days? And to keep your stress level down, we've compiled this helpful gift guide that'll take the guesswork out of which plants to choose, planting them with ease, keeping them safe and happy, and other green gift ideas.
Celebrate Him with These Seven Garden Gift Ideas:
1. Plant with Purpose. The garden for wildlife movement revolutionizes the way people garden to benefit wildlife and their communities. The new Garden for Wildlife™ Native Plant Collections are curated combinations that include keystone perennial plants to support pollinators in specific ecoregions. This initiative takes the guesswork out of what to plant for wildlife, making it easy and seamless for Dad to impact wildlife and the planet. For more information, visit gardenforwildlife.org.
2. Put the Power in Planting. Make his life easier with Power Planter's Auger Starter Pack. This kit includes two garden auger drill bits that turn his favorite electric or cordless drill into a powered soil digger. Plant bulbs, seeds, plugs, and annuals easily. Hand-welded and proudly made in the U.S.A., Power Planter products are guaranteed to last! Learn more here: powerplanter.com.
3. Tinker Toys for the Garden. If your dad loves cool tools and gadgets, this handy ensemble is for him. The C-BITE Plant Support Kit from Thriving Design lets Dad prop up his prized tomatoes and support his snap peas with a fun and sturdy design that's been described as "tinker toys for the garden." As the world's first fully DIY plant support system, C-BITE garden clips are a snap to use, connecting garden stakes and ties into custom shapes and structures. He can build everything from A-frames and tents to trellises and cages – the only limit is his imagination! This kit includes the stakes, clips, ties, and safety caps he'll need to get growing! For more information, visit thrivingdesign.com.
4. Gardening that Doesn't Break the Back. Bio Green's new raised beds are perfect for that special guy who demands more accessibility, whether he thinks he does – or not. The City Jungle, Heidelberg, and Freising provide the optimum environments for plant growth. Dad can grow vegetables, herbs, and plants. And a simple built-in water reservoir means plants drink only what they need. The modern design may even bring Dad's style game up a notch. Learn more here: biogreen-products.com.
5. Bring the Green In. Houseplants make the perfect gift for Dad's office, study, or man cave. Two classics are the Money Tree and the Mass Cane plant. Dad will love the Money Tree because of the braided trunk with clusters of green leaves at the top. The plant is a symbol of luck and good fortune, and it is believed that having one in your home can bring you wealth. The Mass Cane is an easy-to-grow floor plant featuring staggered woody trunks with dark green leaves! Give these plants bright, indirect light and allow the top inch of the soil to dry between watering to ensure plant success. For more information, visit Plants.com.
6. Super-Dad Tools. The Double-Gear Lopper from Centurion Brands is designed to give 2x the cutting power! With fully hardened steel that stays sharper longer and holds branches firm for cleaner cuts, this tool is top-notch, just like Dad! Rust-resistant and lightweight with handles that extend 27 to 33 inches, this tool is perfect for any job and any dad! For info on this lopper and other tools, visit CenturionBrands.com.
7. Homegrown is the Best-Grown. Help the household grill master take his culinary game to the next level! Nothing tastes as good as the savory flavor of homegrown rosemary, and Chef's Choice® Culinary Rosemary from the Southern Living® Plant Collection is an outstanding variety, specially selected for its higher oil content and spicy flavor. With a compact, mounding habit, it's the rosemary of choice for container, herb, and kitchen gardens. Available in select home and garden centers and online at Home Depot.
So whether your Father's Day gift recipient is a Super-Dad or tinker-toy kind of guy (or maybe both), get him a gift that will make others green with envy.
Garden Media specializes in home and garden, horticulture, outdoor living, and lawn and landscape industries, offering innovative PR campaigns designed to secure top media placements and partnerships. For more information, visit http://www.gardenmediagroup.com.