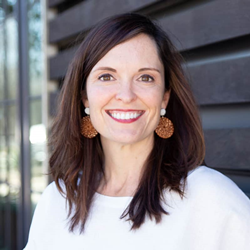 I'm thrilled to partner with Side to take Seven Springs Real Estate to the next level
AUSTIN, Texas (PRWEB) November 23, 2022
Seven Springs Real Estate today announced its partnership with Side, the only real estate technology company that exclusively partners with high-performing agents, teams, and independent brokerages to transform them into market-leading boutique brands and businesses. The collaboration will ensure that Seven Springs Real Estate's integrity-based services are powered by the industry's most advanced platform.
Lindsey Keller approaches her work as a real estate consultant with genuine passion and expert professionalism. Since 2017, she's helped her clients tap into their fullest potential by discovering their dream homes and turning them into a personal paradise. The acclaimed agent boasts a seat in Austin's Platinum Top 500 agents and the Institute for Luxury Home Marketing Million Dollar Guild. In 2021 alone, Keller earned a transaction volume of $13.2 million. She empowers her clients by thoroughly explaining each step of their journey, with plenty of leadership and some laughs along the way.
Whether they're a first-time homebuyer, military member, or retiree, every client benefits from Seven Springs Real Estate's detail-oriented services. Placing clients at the forefront of its business, Seven Springs Real Estate provides a rewarding experience from start to finish. Ultimately, the team is more than agents — they're consultants who aspire to educate and empower clients through their reliable and ethical assistance.
Partnering with Side will ensure Seven Springs Real Estate remains on the cutting edge of the evolving real estate market while continuing to deliver premium services to its clients. Side works behind the scenes, supporting Seven Springs Real Estate with a one-of-a-kind brokerage platform that includes proprietary technology, transaction management, branding and marketing services, public relations, legal support, lead generation, vendor management, infrastructure solutions, and more. Additionally, Seven Springs Real Estate will join an exclusive group of Side partners, tapping into an expansive network from coast to coast.
"I'm thrilled to partner with Side to take Seven Springs Real Estate to the next level," Keller said. "Thanks to Side's cutting-edge marketing, technology, administrative, and legal services, I can uphold Seven Springs Real Estate's standard of excellence while keeping an open schedule for my clients."
About Seven Springs Real Estate
Seven Springs Real Estate redefines Central and South Austin real estate with expert client-focused care and state-of-the-art services. Homebuyers and sellers in Travis County, Hays County, and the surrounding areas will benefit from the business's professional and personalized aid. Seven Springs Real Estate knows success is in the details and attentively understands its customers' needs not only to find them a house but to help them build a home from the inside out. For more information, visit http://www.sevenspringshomes.com.
About Side
Side is a behind-the-scenes brokerage platform that exclusively partners with top-performing agents, teams, and independent brokerages to create and grow their own boutique brands without the cost, time, or risk of operating a brokerage. Side's proprietary technology platform and premier support solutions empower its agent partners to be more productive, grow their businesses, and focus on serving their clients. Side is headquartered in San Francisco. For more information, visit http://www.side.com.