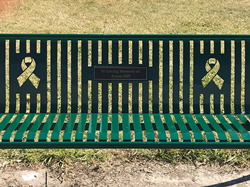 Aaron Hill's memory will live on through generations of play and laughter at Prairie Elementary School.
LAFAYETTE, La. (PRWEB) December 10, 2019
Seven-year-old Aaron Hill leaves a legacy all kids can enjoy.
Aaron Hill was six years old when he was diagnosed with a rare genetic brain disorder. Within six months, he lost his ability to see, hear, walk, talk and eat. Aaron passed away at the age of seven, 14 months after he was diagnosed. Make-a-Wish, a non-profit organization that grants wishes for critically ill children had heard of Aaron's case and wanted to fulfill his wish—a playground at Prairie Elementary School in Layfayette, LA, that is accessible to all children.
This selfless wish caught the attention of UFC Champion Dustin Poirier. Poirier, a native of Layfayette, and his wife Jolie started a charity, the Good Fight Foundation. While packing up in preparation for a move, the Poirier family realized they had a lot of fight memorabilia from Dustin's storied career. Rather than box it up for storage, as most would do, they saw an opportunity for good. Following each of his fights, Poirer auctions off his fight-worn gear to help fund the foundations current goal. When they heard Aaron's story, they knew this was special and one they wanted to support.
"It's just a beautiful dream, ya know, for a six-year-old to have," said Poirier while fighting back the tears. "He could have said he wanted to go to Disneyland or to meet his favorite actor. That's it, man, that's powerful."
Bliss Products, an outdoor recreational solution provider who works with Play and Park Structures and UltraSite, was tasked with creating an outdoor space to honor Aaron's wish. Bliss Products installed a playground featuring slides, climbers, and panels in bright colors such as green, red, yellow, and purple. As a finishing touch, Prairie Elementary installed an Awareness Bench by UltraSite. This very special bench sits right beside the playground and features two ribbons cut out of the steel back and a memorial plaque to honor Aaron's life. It is meant to bring a place of comfort to those who knew and loved Aaron Hill and to honor the life he lived.
Thanks to the efforts of Make A Wish, Dustin Poirier, Bliss Products, Play and Park Structures, and Ultra Site, Aaron Hill's memory will live on through generations of play and laughter at Prairie Elementary School.
About UltraSite
UltraSite™, a PlayCore company, has been manufacturing high-quality commercial grade outdoor recreation products, including a variety of Site Furnishings, Park Amenities, Picnic Tables, Park Benches, and Outdoor Fitness Equipment for over 25 years.
About Play & Park Structures
What sets Play & Park Structures apart from other companies is the ability to deliver a boutique experience with the backing of the largest playground manufacturer in the world. Focusing on fact-based research coupled with observing and studying how children play informs every aspect of our component and product design, helping to create the ultimate play experience that keeps kids and parents coming back time and time, and time again.