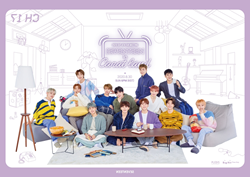 SEOUL (PRWEB) August 27, 2020
SEVENTEEN will hold their fourth fan meeting 'SEVENTEEN in CARAT LAND' online on August 30.
Last month, PLEDIS Entertainment announced the poster and ticket information of SEVENTEEN'S fourth fan meeting 'SEVENTEEN in CARAT LAND' through the band's official social media channels.
The poster portrays the members of SEVENTEEN dressed in comfortable outfits and striking various poses, sitting relaxed on the couch or eating snacks. The bright smiles on their faces build further anticipation and interest to the upcoming fan meeting.
The fourth fan meeting 'SEVENTEEN in CARAT LAND' will showcase a series of programs tailored specifically for CARATs with the concept of 'SVT-TV' featuring various exclusive segments and special stages to provide fans with an unforgettable experience.
'SEVENTEEN in CARAT LAND', the act's one of a kind fan meeting, is renowned for its fresh and diverse contents, earning recognition as an unparalleled show.
Global fans are sharing their enthusiasm for this fan meeting as it will be streamed live globally, providing a special experience for more fans than ever before. Powered by Kiswe's "multi-view" live streaming technology, fans will be able to customize their own viewing experience, choosing which contents they want to see. Kiswe delivers global digital fan experiences through its cloud-based multi-channel convergence technology, most notably the recent BTS "BANG BANG CON The Live" event which broke the Guinness world record for most viewers for a music concert live stream.
Tickets to SEVENTEEN's highly anticipated fan meeting 'SEVENTEEN in CARAT LAND' are available for purchase at Melon Ticket for official fan club members, and at Weverse Shop for regular buyers.
Photo Credits: PLEDIS Entertainment
About SEVENTEEN
SEVENTEEN (S.COUPS, JEONGHAN, JOSHUA, JUN, HOSHI, WONWOO, WOOZI, DK, MINGYU, THE 8, SEUNGKWAN, VERNON, and DINO) is a 13-member group that consists of three units: Hip-hop, Vocal, and Performance. Along with their debut in 2015 with their first EP, 17 CARAT, the group gained much attention from the public and was met with thriving success. The members of SEVENTEEN heavily participate in the production of their own music and choreography, continuing growth after growth as the "self-producing idols" they are known to be. The three different units each exhibit their own distinct charm and color, but when they all come together to perform as one group, the synergy multiplies, instantly captivating fans all across the globe.
Media Inquiries
Irene Choi globalpr@bighitcorp.com
Big Hit Entertainment