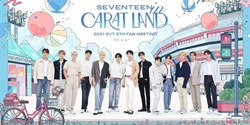 LOS ANGELES (PRWEB) August 03, 2021
VenewLive, the livestreaming platform powered by KISWE, is again partnering with PLEDIS Entertainment and HYBE to host SEVENTEEN's 5th annual Fan Meeting, "SEVENTEEN in CARAT LAND," on Sunday, August 8, 5PM KST. This will be the third opportunity for the 13-member global performance powerhouse to meet their fans virtually through the VenewLive platform.
This highly anticipated event will showcase each member's passion, unique talent and enchanting charisma, while spreading their message of love across the world through an unforgettable evening with fans across the globe.
With VenewLive's Multiview technology, not only will the group's fanbase, CARATs, be able to personalize their HD-resolution viewing experiences, but the SEVENTEEN members will also be able to highlight their individual performances using 14 different camera angles that will allow CARATs to seamlessly move between viewing options - whether they want to focus on the entire stage or focus in on their favorite performer.
With global streaming capabilities, VenewLive offers a uniquely personalized experience for CARATs across the globe. This interactive and immersive fan meet will include the platform's popular "Artist Chat'' function, which allows the SEVENTEEN members and their fans to directly interact with each other in the live stream chat. Fans looking for some behind the scenes action will also enjoy exclusive access to the group's special live stream SoundCheck rehearsal.
For more information on how to purchase tickets visit: Weverse App, Weverse Shop or VenewLive.
_____________________________________________________________________
About SEVENTEEN
Racking up 2 billion streams and selling 7.7 million albums, SEVENTEEN—comprised of S.COUPS, JEONGHAN, JOSHUA, JUN, HOSHI, WONWOO, WOOZI, THE 8, MINGYU, DK, SEUNGKWAN, VERNON and DINO—has rocketed to the forefront of the music scene fueled by a fiercely independent spirit and a nonpareil in-house creative ecosystem. The group's innovative structure hinges on the interplay of three units: hip-hop, vocal, and performance. Living up to the title of "self-producing idols," SEVENTEEN has unassumingly made history and become one of the biggest groups ever due to their world-class synchronization, jaw-dropping choreography, and tight teamwork. Moving at an unparalleled pace, the global performance powerhouse recently made their U.S. television debut on The Late Late Show with James Corden and followed it with unforgettable performances on The Kelly Clarkson Show, The Ellen DeGeneres Show, Jimmy Kimmel Live! and MTV's Fresh Out Live. SEVENTEEN's latest EP Your Choice debuted at No. 1 on Billboard's Top Album Sales chart and No. 15 on the Billboard 200. It also recorded the highest first-week sales for any album released in Korea in the first half of 2021, earning them the "quadruple million sellers" title as it joins their last three consecutive releases—An Ode, Heng:garæ and ; [Semicolon]—in selling over 1 million copies each.
About HYBE
HYBE, formerly known as Big Hit Entertainment, is an entertainment lifestyle platform company that innovates the music industry under the mission "We believe in music." The company was listed on the KOSPI Market of Korea Exchange (KRX) in October 2020. HYBE has established its business ventures in entertainment lifestyle upon three pillars. The label division brings creatives centered around music and artists such as BTS, TOMORROW X TOGETHER, SEVENTEEN, ENHYPEN and ZICO. Solution operates specialized business units for video content, IP, learning and games. The platform division connects and expands all of HYBE's contents and services. Based on organic operations and synergies created in each field, HYBE aims to create top-notch content, expand fan experience, and make a difference for anyone who enjoys a music-based entertainment lifestyle.
About VenewLive
VenewLive is a Digital Live Performance Streaming Platform, powered by Kiswe, that delivers a unique immersive experience to global music fans, expanding viewership beyond physical venues. Our Multi-View technology enlivens the artists' performances, delivering on-stage magic and energy to fans virtually. Through our digital interactive features, the fans will feel seen and valued by the artists and enjoy a collective viewing experience with other fans.
About Kiswe
Kiswe is the interactive video company that creates real-time live streams to engage digital audiences and unique communities around the world. By partnering with sports rights holders, Kiswe Studio enables remote commentators to transform live games into multiple viewing experiences via personalized content and local languages. Kiswe's technology also unlocks ways for people to stay connected over live events through a content creation and mobile platform that bridges media companies with consumers. Kiswe is headquartered in New Jersey, USA and has offices in New York, Seoul, Hasselt and Singapore. Learn more at http://www.kiswe.com.
Media Inquiries
Cassady Nordeen
Cassady@purposenorthamerica.com