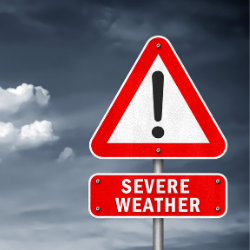 "We can't assume that seniors will hear about the extension nor understand it. Something as important to their health and wellbeing as Medicare enrollment needs to be communicated--and fast."
CLEARWATER, Fla. (PRWEB) December 16, 2019
A Special Enrollment Period (SEP) has been declared by the Centers for Medicare and Medicaid Services and is available to seniors who reside in areas affected by recent severe weather. This extension pushes the deadline from December 7 to either December 31 or January 31, depending on the county in which the senior resides. "Outbreaks of severe weather this fall have added to technical issues with the normal Medicare annual enrollment," says Dave Rich, CEO of Ensurem LLC. "We need to reach out to seniors living in affected areas identified by FEMA and ensure that they understand the Special Enrollment Period [1]."
The Centers for Medicare and Medicaid have outlined that the SEP applies to individuals who:

Rely on help making healthcare decisions from someone who lives in the affected area
Reside, or resided at the start of the incident period, in an area for which FEMA has declared an Emergency or a Major Disaster and has designated affected counties as eligible to apply for Individual or Public level assistance; and
Had another valid election period at any time during the incident period; and
Did not make an election during that other valid election period.
Rich, whose company is an online, multi-carrier insurance brokerage, has entered the retail Medicare solutions market with a large and swift capacity to assist seniors trying to navigate their Medicare coverage options. With over 300,000 seniors per month searching for coverage solutions, Ensurem utilizes their innovative technology to facilitate the exchange of information between this large populace and the health insurance industry--all with a platform for education and awareness.
Ensurem's call centers are standing by to handle the calls from seniors confused as to whether the extended deadline affects them. Their call centers log over 2,000 calls per day and they have access to the FEMA-designated counties nationwide that are affected and can also answer general questions pertaining to coverage options. The call center is open at 800-729-5109.
The areas affected that have been given extensions are:
1. South Dakota – SEP End Date – January 31, 2020
2. Texas – SEP End Date – January 31, 2020
3. North Carolina – SEP End Date – January 31, 2020
4. South Carolina – SEP End Date – December 31, 2019
5. Georgia – SEP End Date – December 31, 2019
6. Florida – SEP End Date December 31, 2019
7. Florida Seminole Tribe – SEP End Date – December 31, 2019
8. Puerto Rico –SEP End Date – December 31, 2019 [2]
To help seniors sort through these options and obtain the coverage they need, Ensurem, which has relationships with most of the major health insurance issuers in the U.S., also maintains a presence in kiosks within several retail store chains. To date, with the help of companies specializing in health kiosk placements, Ensurem has deployed its first-in-industry software solutions to 4,500 of these kiosks in pharmacies and retail locations throughout the country to simplify the Medicare buying process.
"We can't assume that seniors will hear about the extension nor understand it. Something as important to their health and wellbeing as Medicare enrollment needs to be communicated--and fast," stresses Rich.
Ensurem's call centers are standing by to handle calls from seniors in FEMA-designated counties nationwide and answer general questions pertaining to coverage options: 800-729-5109.
About Ensurem:
Ensurem, headquartered in Clearwater, FL, is a leading technology and product distribution company serving carriers and consumers within the massive U.S. senior market. The company provides end-to-end solutions for carriers, including product development, digital marketing, and consumer-centric front ends and back end. For more information, please visit Ensurem.com.
1. Staff Generated, "CMS Open Enrollment Notices", CMS.gov, December 2019, Web.
2. "SEP Notice for Individuals Affected by Severe Weather." Humana SEP Notice, Humana, 2019.