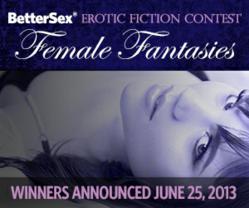 It was difficult to narrow down the winners; we had so many great stories.
Hillsborough, NC (PRWEB) July 09, 2013
Beginning May 1st 2013 BetterSex.com asked adult erotica writers, those 18 years of age or older at time of story submission, to submit their stories based on the top 10 Female Fantasies determined by a poll of BetterSex.com® customers, and they responded. "We received some truly outstanding stories," said Rebecca Cook Director of Wholesale Operations and New Business Development. "It was interesting to see how the writers developed the fantasies." "It was difficult to narrow down the winners; we had so many great stories."
The contest spanned approximately two months from start to finish and included a general call to entry, public voting to determine top 20 finalists, and in-house voting including guest judge Joy King, Consultant to Wicked Pictures, to determine the top 10.
Amateur erotic fiction has gained notoriety of late with the entrance of Shades of Grey to the marketplace. "There's no denying that the Shades of Grey phenomenon took the world by storm and we'd like to provide an opportunity for other amateur writers' stories to be heard," Cook said. Cash prizes are being distributed to the top 10 finalists. Additionally, sex toy prize packs will be sent to the authors who were selected to move on to the juried voting round, but did not make the final cut.
This year's top three included "The Night Shift" by Oleander Plume, "Numbers Don't Lie" by Lush Jones, and "Closing Time" by L.C. Spoering addressing sex with a stranger/voyeurism, and dominance. Read the erotic fiction stories that made the top 10 now at BetterSex.com.
About Sinclair Institute
Since 1991, Sinclair Institute® has developed an extensive library of videos and products covering everything from advanced sexual positions to erectile dysfunction solutions. The best selling Better Sex Video Series®, has sold more than four million videos in over 30 countries. Sinclair sex education videos help individuals learn about sexuality in the privacy of their home. Working with a diverse team of professional sex educators and therapists, we create products that work by fostering communication and creativity between partners. The Better Sex® videos address topics many people find difficult or embarrassing to discuss.