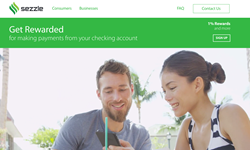 "We are always on the lookout for exciting companies disrupting payments and FinTech. Our platform is built to bring exciting companies like Sezzle together to present to leaders in our space." -Greg Palmer, Sr. Director of Finovate
SAN FRANCISCO, CA (PRWEB) May 05, 2016
Sezzle, a breakthrough company in consumer to business payments, has been selected to showcase its innovative bank to bank payments technology at FinovateSpring 2016 in San Jose. The company will present its technology on Wednesday, May 11th.
Sezzle's technology allows for an alternative low-cost payment method at checkout - effectively halving the cost of traditional credit and debit card merchant processing - all via bank to bank payment technology. At checkout, Sezzle allows consumers to link a bank account through simple sign-on technology. This process significantly improves the traditionally cumbersome process of bank to bank payments, also known as ACH.
"We are honored to be selected as a top FinTech innovator and to present at Finovate," said Sezzle's CEO Charlie Youakim. "Finovate is at the top of an exciting list of announcements from Sezzle. Our product is resonating with merchants who are looking for alternatives to expensive credit and debit card merchant processing programs."
Finovate is widely recognized as the premier venue for unveiling innovative FinTech products and platforms. The conference has grown significantly over the past few years and showcases the most promising FinTech companies, with recent attendees including Transferwise, Braintree, Credit Karma, Dwolla, HelloWallet, Jumio, Kabbage, Lending Club, LendingTree and Mint.
"We are excited that Sezzle is coming to present at FinovateSpring 2016," said Greg Palmer, Sr. Director of Finovate. "We are always on the lookout for exciting companies disrupting payments and FinTech. Our platform is built to bring exciting companies like Sezzle together to present to leaders in our space."
To learn more about Sezzle and its new merchant processing technology, visit sezzle.com/finovate-2016. For more information on Finovate visit finovate.com.
About Sezzle
Sezzle is reinventing consumer to business payments, one payment at a time. It leverages new authentication technology with banks to gather account information and complete an ACH transaction instantly. Its branded and white label solutions allow businesses and software platforms to simply and securely leverage Sezzle's payment capabilities to accept electronic debit payments, without the transaction fees and pain of accepting traditional card-based payments. Learn more at https://sezzle.com.
About Finovate
FinovateSpring is a demo-based conference for innovative startups and established companies in the fields of banking and financial technology. Held in San Jose, the event offers an insight-packed glimpse into the future of money via a fast-paced, intimate, and unique format. FinovateSpring is organized by The Finovate Group. For more information on the event or to view videos of previous demos, please visit finovate.com.
Media Contact
Mia Bernad
Sezzle
mia.bernad(at)sezzle(dot)com
(651) 504-5697