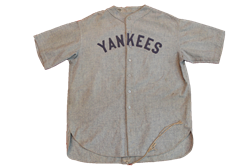 The SGC team is extremely proud to have been chosen as the authenticator for this uniform.
BOCA RATON, Fla. (PRWEB) May 06, 2019
SGC, a top card grading and game-worn uniform authentication service, recently served as the official authenticator of one of the most prized MLB relics known to collectors - a game-worn Babe Ruth jersey dating back to the late 1920s. One of only a handful of authentic Ruth New York Yankees professional model jerseys in existence, the SGC-authenticated item is perhaps the finest surviving example in that group.
Authenticated by highly respected SGC uniform expert Dave Grob, the rare jersey was graded as 'Excellent/Superior.' Grob was also the expert who previously authenticated the famous 1920 Babe Ruth road jersey that sold for over $4.4 million in 2012.
"For well over a decade, I have been researching and evaluating significant major league uniforms of the 20th century," said Grob. "Every time I am presented with a historic uniform like this striking Babe Ruth example, I am always rooting for the jersey because, if it proves to be authentic, it means that an extraordinary piece of baseball history has survived. However, I always make sure that my passion does not interfere with my final decision, which is based on detailed fabric and construction analysis supported by period on-hand examples and enhanced technical analysis."
SGC CEO Dave Forman added: "This Babe Ruth jersey may prove to be the most valuable piece of sports memorabilia ever. The SGC team is extremely proud to have been chosen as the authenticator for this uniform."
Exuding the unmistakable style of the 1920s, the remarkable Babe Ruth jersey features the original "Yankees" team name across the front – a unique feature not found on any other iterations of the franchise's uniform design. "Ruth" is stitched on the inside of the collar in cursive with the original Spalding manufacturer's tag preserved intact next to the iconic player's last name.
Owned by a private collector who wishes to remain anonymous, the legendary jersey will be sold during a live auction event at Yankee Stadium on June 15. Organized by Hunt Auctions, the event will feature hundreds of Ruth-related items, including cleats, contracts, photos, trophies, autographed photos and baseballs, as well as his personal check ledger. Many of these items are part of the Ruth family collection and have been largely unknown to the public until now. Expected to bring more than $4.5 million to its owner, the jersey would set the world record for the highest-priced piece of sports memorabilia of all time.
About SGC
Established in 1998, SGC is one of the most trusted card grading and game-worn uniform authentication companies for collectors worldwide. Comprised of experienced and respected graders and authenticators, SGC sets the industry standard with the consistency, integrity, and quality of its services. With a host of tech updates in progress, SGC customers will enjoy an array of unique collector support and security features, including an interactive submission platform with order tracking, grader notes, a rich database of all items ever graded by the company, high-quality card and uniform images, and much more. To learn more about SGC and its grading and authentication services visit http://www.gosgc.com, like the SGC Facebook page, and follow the company Instagram account @sgcollect.