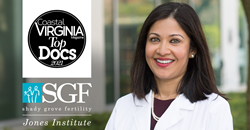 "I feel such gratitude to my fellow physicians for this recognition from Coastal Virginia Magazine. Working with people as they build their families gives me such a sense of hope and purpose."
NORFOLK, Va. (PRWEB) October 13, 2021
Shady Grove Fertility (SGF) is proud to announce that Tarita Pakrashi, M.D., M.P.H., who sees patients at SGF Jones Institute in Norfolk, has been named to Coastal Virginia Magazine's 2021 Top Doctors list. Coastal Virginia Magazine conducts an annual peer-to-peer survey by Data Joe, an independent firm with no ties to the magazine or the medical community. The 2021 Top Docs list is compiled of 668 physicians across 80 specialties.
Dr. Pakrashi is a reproductive endocrinologist and infertility specialist who has a lifelong interest in the mind-body aspect of women's health. Working with patients in different settings over the years, she believes there is a pressing need to improve upon the status quo, focusing on nurturing the person as a whole during their journey to parenthood.
Dr. Pakrashi specializes in the diagnosis and treatment of infertility, including gynecologic endocrine issues, such as polycystic ovary syndrome (PCOS) and endometriosis, as well as helping patients overcome infertility with third-party reproduction. During her career, she has published abstracts and papers on topics such as cryopreserving blastocysts, ovarian stimulation for in vitro fertilization (IVF) cycles, and treating women with PCOS.
"I feel such gratitude to my fellow physicians for this recognition from Coastal Virginia Magazine," shares Dr. Pakrashi. "Working with people as they build their families gives me such a sense of hope and purpose."
Receive fertility care at SGF Jones Institute
SGF Jones Institute offers patients in Virginia's Hampton Roads region excellence in advanced fertility care. SGF Jones Institute provides a full range of diagnostic and treatment options to help individuals and couples achieve their family-building goals, including:

fertility testing,
low-tech fertility treatment options,
in vitro fertilization (IVF),
donor egg, sperm, and embryo treatment,
genetic screening and testing,
IVF to lower risk for inherited genetic disease,
gestational carrier,
egg freezing,
fertility preservation for patients with cancer, and
LGBTQ+ family building.
SGF Jones Institute offers innovative financial programs, including the Shared Risk 100% Refund Program. This exclusive program provides patients with the opportunity to pay a fixed amount for up to six fresh IVF or donor egg cycles and any subsequent frozen embryo transfers (FETs). Of the total Shared Risk 100% Refund Program participants, 82 percent take home a baby, and the rest receive a full refund to use for other family-building options.
New patients may schedule an appointment at SGF Jones Institute by calling the SGF New Patient Center at 757-512-8547 or submitting this brief online form.
About Shady Grove Fertility (SGF)
SGF is a leading fertility and IVF center of excellence with more than 100,000 babies born. With 43 locations, including new locations in Colorado and Norfolk, VA, as well as throughout CO, FL, GA, MD, NY, PA, VA, D.C., and Santiago, Chile, SGF offers patients virtual physician consults, delivers individualized care, accepts most insurance plans, and makes treatment more affordable through innovative financial options, including 100% refund guarantees. More physicians refer their patients to SGF than any other center. SGF is among the founding partner practices of US Fertility, the largest physician-owned, physician-led partnership of top-tier fertility practices in the U.S. Call 1-888-761-1967 or visit ShadyGroveFertility.com.