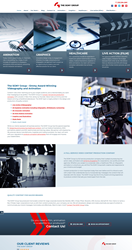 We see our expansion into distribution as an enhancement of our content production capabilities to our healthcare agency clients, says Steve Gold. We are confident that we will exceed client expectations with these new broadcast services.
NEW YORK (PRWEB) February 05, 2020
The SGNY Group, a New York based content production and media distribution company, has rolled out three broadcast PR services that the company has developed specifically to serve the healthcare industry.
Founder and President Steve Gold explains, "We believe that the healthcare industry has been underserved by the broadcast PR vendors who produce SMTs. Healthcare satellite and radio tours demand a special skillset for their success. We've assembled an incredible team who understand healthcare and have the relationships at networks and stations to really make a difference for our clients."
The new line-up includes television and radio tours as well as an audio news release service that's distributed exclusively to top-ranked syndicated healthcare shows. A 60-second Healthcare ANR will achieve an audience of over 30-million listeners.
SGNY Healthcare Satellite tours and Radio Media Tours will perform equally as well. According to Steve Gold, healthcare companies and their agencies can expect a minimum of 22 bookings for an SMT/RMT combination with a reach of over 20 million. Radio Media tours will achieve similarly high listenership.
"We see our expansion into distribution as an enhancement of our content production capabilities to our healthcare agency clients", says Steve Gold. "We are confident that we will exceed client expectations with these new broadcast services."
The SGNY Group was founded in 2007 to provide content production to the corporate community. Over the years, the company has distinguished itself with award-winning productions in both film and animation in healthcare and other sectors. Learn more about The SGNY Group by visiting their website: https://sgny.com/